As technologies evolve, virtually all modern electronic devices feature Internet connectivity for greater convenience. But we must also be very careful about information security risks that come with them. Recent news coverage frequently includes malware or ransomware attacks taking advantages of system vulnerabilities, which can lead to significant losses to digital assets. With QNAP NAS being a connected device, there are also details users need to take care of to mitigate such risks. To enable easy and intuitive use of NAS, QNAP has introduced the Security Counselor app along with QTS 4.3.5 for total NAS security protection.
Multiple security levels for easily verifying system settings
In Security Counselor, you can choose one of the three default security policies (Basic, Intermediate, or Advanced), based on the security requirements of your network environment. The Security Checkup function will use your selected policy when it scans your system. You can also configure your own policy by selecting the Custom security policy. A Security Checkup can be run manually or on a scheduled basis to ensure maximum protection. The schedule can be set in multiple ways (daily, weekday, weekend, or on a specific day of the week) to ensure your work stays uninterrupted. You can click on scan results, and Security Counselor will take you to the relevant system section to change associated settings for securing your NAS.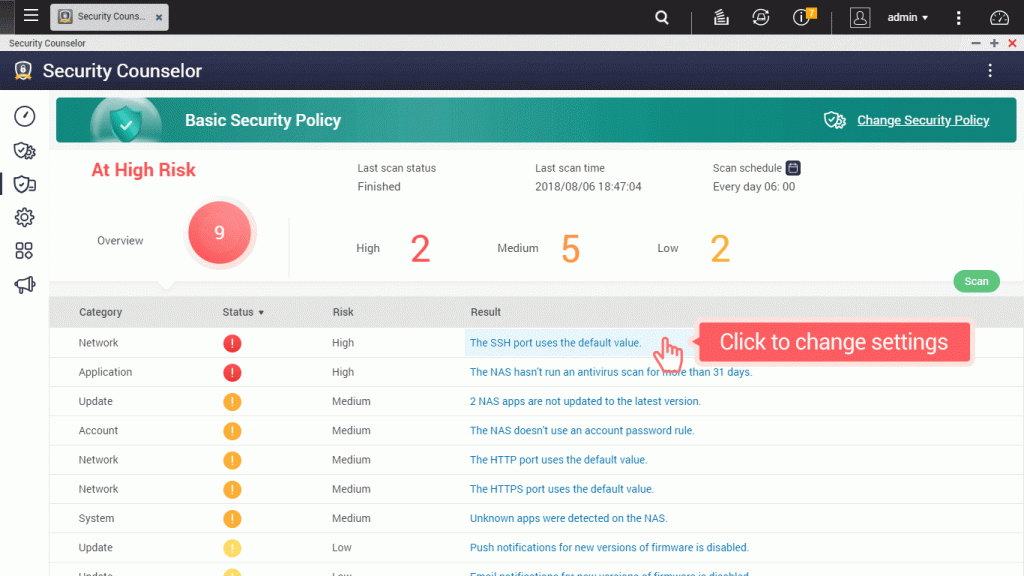 Integrated with multiple security features for extra peace of mind
In Security Counselor, you can view the status of antivirus and antimalware software for real-time NAS security monitoring. You can also change additional security settings, install security apps, and read QNAP Security Advisories within the app. With all of these security functions integrated into a single app, the Security Counselor not just saves time but also provides greater peace of mind.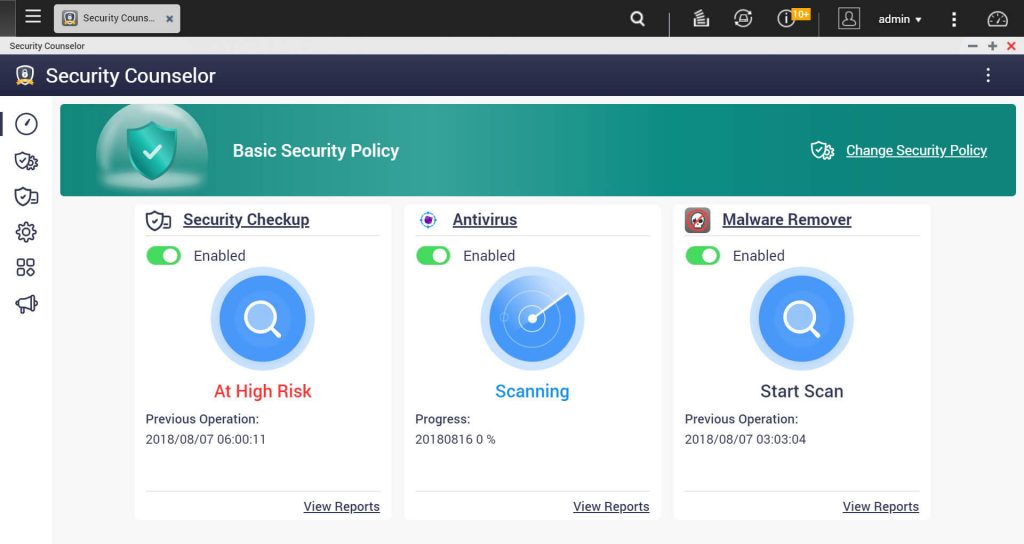 Security Counselor: all-in-one NAS security guard for centralized security management
The Security Counselor, rolled out with QTS 4.3.5, consolidates most security features in a single app. This greatly enables a quick and easy control of NAS security. The app also indicates recommended settings for those without specific professional knowledge (such as home users) to enhance NAS security. You can download QTS 4.3.5 for your NAS from the QNAP Download Center. After installing QTS 4.3.5 you can install Security Counselor from the QTS App Center. With powerful features and intuitive operations of the Security Counselor app, you can definitely enjoy a better NAS usage experience.
Learn more about Security Counselor at: https://www.qnap.com/solution/security-counselor/en/