With a range of affordable NAS, switches and adapters, QNAP is at the forefront of pushing 10 Gigabit Ethernet (10GbE) adoption for both home and business users. From multimedia entertainment, virtualization, file backup/recovery, to teamwork and general everyday usage, every application will greatly benefit from the incredible bandwidth that 10GbE provides.
Whether you have already adopted 10GbE networking and want to get the best performance, or you are interested in upgrading to 10GbE but want more information on how to do so, this blog post is a helpful guide that goes through key steps of ensuring that you are getting the promised performance and bandwidth of 10GbE.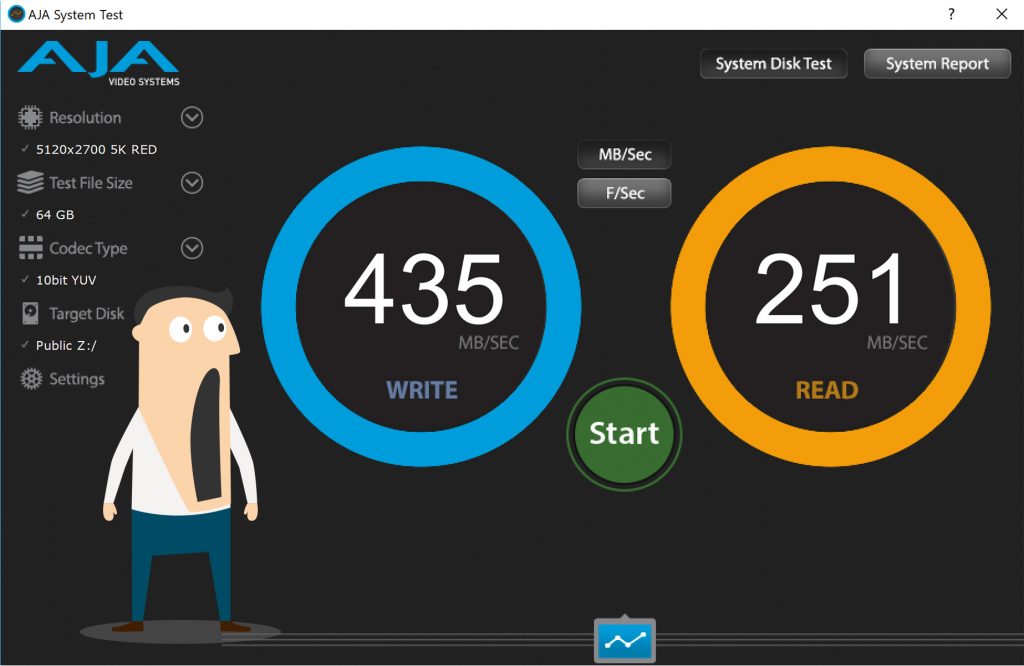 Without proper configuration, 10GbE networks may underwhelm.
Setting up your SSDs are crucial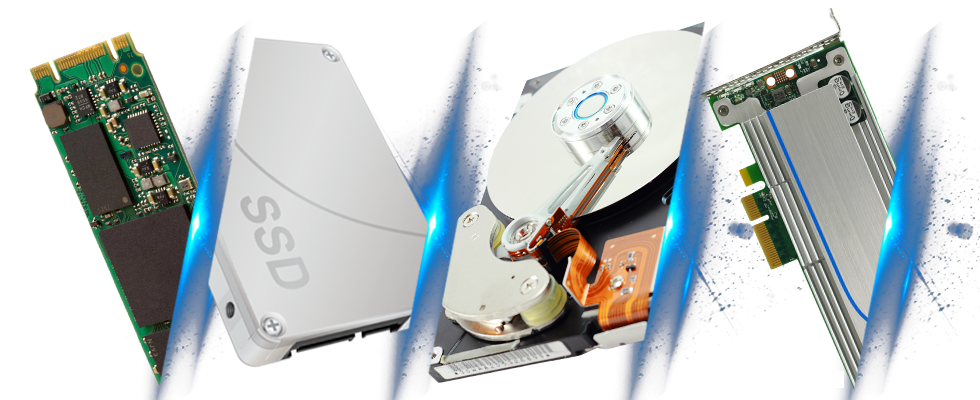 Solid-state Drives (SSD) are absolutely essential for attaining the advertised speeds of 10GbE networks. There are two ways of using SSDs with a QNAP NAS: you could go overboard and splash the cash by using an all-SSD configuration, or you could save your money and still attain 10GbE-grade performance by using an SSD cache to complement traditional hard drives.
If you're using a QNAP NAS with dedicated 2.5-inch SSD bays, or if there are M.2 SSD slots in your NAS then you can easily build a dependable SSD cache without sacrificing any storage space. From QNAP's internal testing, we recommend using at least four SSDs in a RAID 10 read & write cache to attain the best performance. SSDs from Samsung and Intel usually deliver superb performance.
Of course, you need a business grade, high-end QNAP NAS to deliver the max. speed. To get the best long-term use from your SSDs, QNAP NAS now provides SSD Extra Over-provisioning (OP), allowing you to mitigate the potential effects of write amplification by adding additional OP space to SSDs. You can calculate the recommended OP space by using the SSD Profiling Tool.
You will also need to ensure that your computers have SSDs as their primary storage devices, but most modern laptops and desktops now come equipped with SSD-based storage by default.
Make the switch to the QSW Series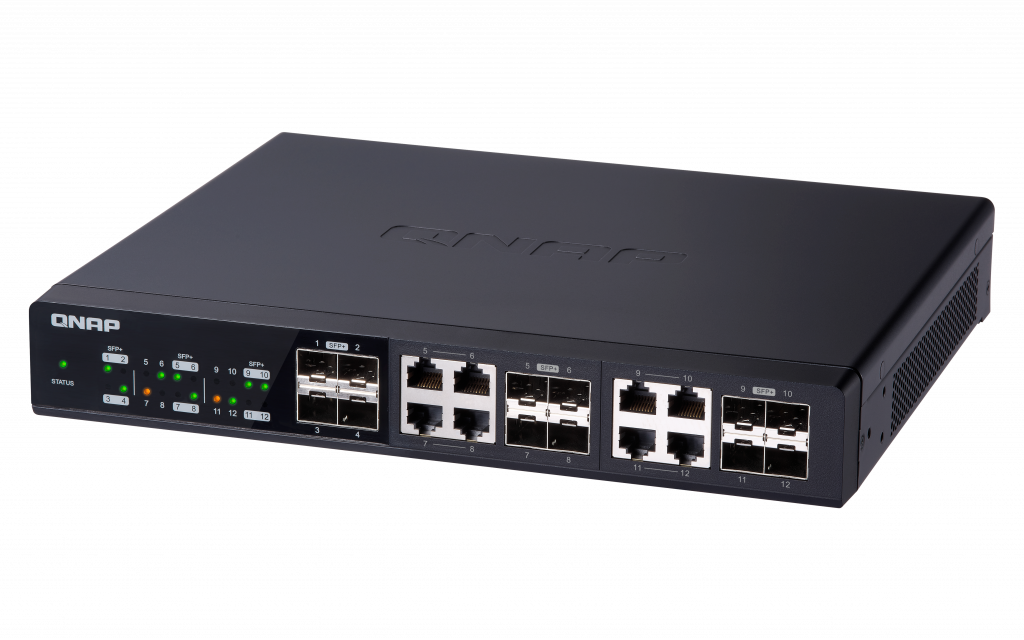 It goes without saying that your switch will be the beating heart of your 10GbE network, so making the right choice is essential. QNAP provide the QSW-804-4C (8-port) and QSW-1208-8C (12-port) 10GbE switches that not only provide a wealth of connections (both SFP+ and RJ-45) but also have been designed for universal usage with a sleek modern look. Whether on a rack in your server room, or sitting alongside your NAS and workstations in a small office, the QSW Series 10GbE switches are energy efficient and run near-silently to empower you with a dependable 10GbE network. And don't forget to use the proper cables!
Add 10GbE connectivity to your computers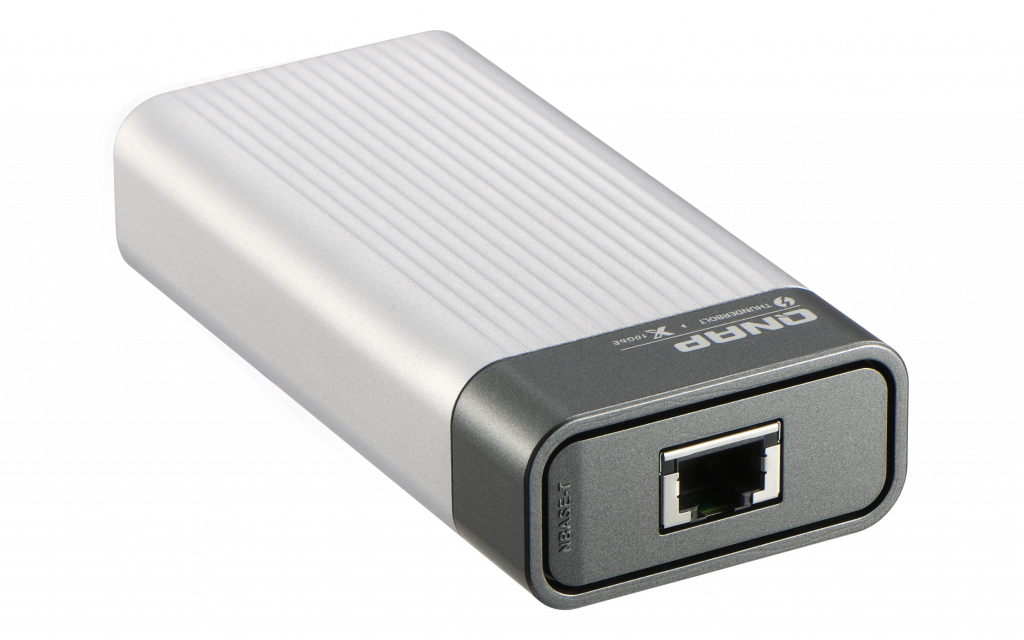 Outside of high-end workstations, finding native 10GbE connectivity on a computer is still quite rare. If you're lucky enough to have 10GbE-ready computers then you're all set – but if not then you're going to need suitable network adapters. If you have a PC with a free PCI Express slot, then QNAP provide the affordable QXG-10G1T adapter for you to add a 10GbE port. If you have a laptop/computer that cannot be upgraded (or if you don't feel like opening up your PC) then QNAP also offer Thunderbolt 3 to 10GbE adapters – the QNA-T310G1T and QNA-T310G1S NIC – which provide a light and portable solution for connecting devices to your 10GbE network.
Set the MTU to 9000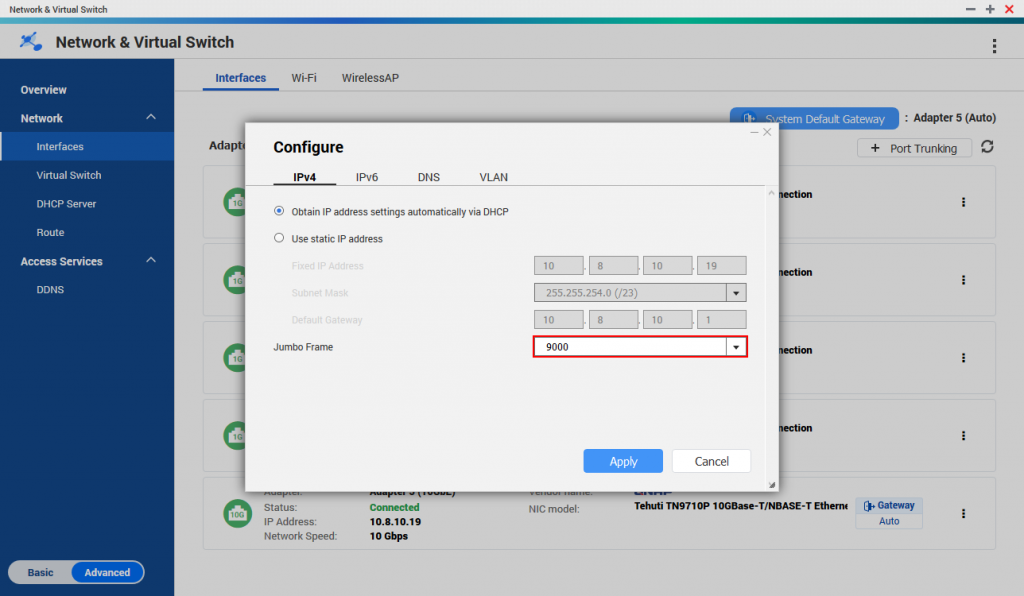 After you've got everything plugged in and ready to go, there's just one small step left. In your NAS and all of your connected devices you need to set the Jumbo Frame (also known as "MTU" – Maximum Transmission Unit) to 9000. On your NAS, this step can be carried out in Network & Virtual Switch. On Windows and macOS this setting can be configured by going to your network adapter properties/settings.
10GbE Unleashed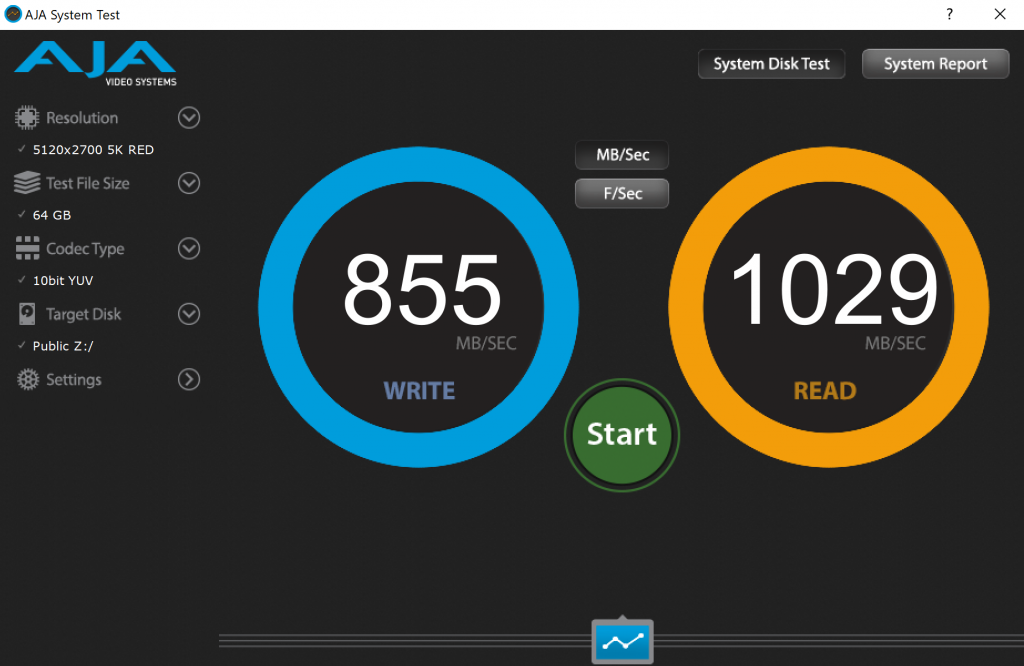 The resulting performance when using a RAID 10 SSDs cache with 20% extra over-provisioning.
In summary:
Use a sufficient number of SSDs in your NAS to build a RAID 10 read/write SSD cache.
Allocate extra over-provisioning space to your SSDs based on recommendations from the SSD Profiling Tool.
Use a high-quality 10GbE switch with a variety of ports such as the QNAP QSW Series.
Add 10GbE connectivity to your computers using QNAP's QXG and QNA Series adapters.
Set the Jumbo Frame (MTU) of your NAS and computers to 9000.
By following these steps, you will have a dependable 10GbE network that can supercharge every aspect of your IT infrastructure. Whether for home or business use, 10GbE makes everything faster and provides an immense boost in both performance and potential.