Hey folks!
You may have noticed that f you've been talking about a lot about NAS lately. Today, the topic will be a little bit different as I'll be talking about the trends of the IP cameras of today and storage needs that they require. This may be an old and not so interesting topic for some of you. However, we have recently begun to face the super large storage demand because the resolution of cameras is getting higher every day, the price of cameras is getting affordable, and the duration to keep the surveillance footage is getting longer. Those hot,super high mega pixel cameras are now more accessibly priced and easier to acquire. As a result, we need more and more storage to store video surveillance footage. Thus, this article will be talking about how to easily deploy a storage system to meet your capacity demand for the video surveillance recording.
Here is the possible scenario:
Requires 30 cameras, and the recording profile per camera:
Resolution: 5 megapixels
Frame rate: 15 FPS
Quality: medium (Compression: 50)
Days to keep the video: 180 days
The calculation is we roughly need
Bandwidth: 300 Mbps
Disk Space: 580 TB
You can calculate this information with NVR Selector. Just enter the settings as I have listed above to get your own custom specifications.
Let's take for example a project involving 30 cameras. The storage capacity requirement is huge, approximate 580 TB in this case. This would be tough to accomplish just using any average NVR that most camera vendors offer. Here is what we may need for storage and a VMS system: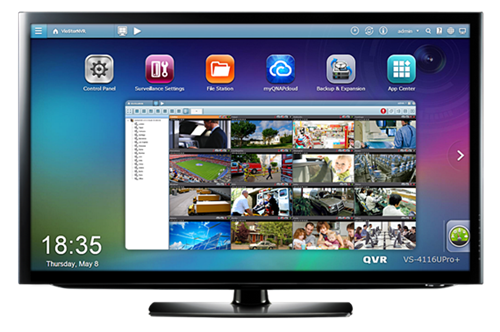 With the all-in-one storage combined with VMS, you can easily create a RAID 5 with multiple hard drives installed in the system, and also manage all camera recording settings in one solution. It is compatible with over 3000 different IP camera models on the market.
The largest raw storage capacity of the biggest QNAP NVR is 96 TB; a 12 bay solution with 8 TB hard drives in each slot without any data redundancy. . If you required morestorage capacity, an enterprise rack mountable NAS as a storage expansion would be necessary such as the QNAP NAS TS-EC2480U-RP. This solutioncan hold up to 24 hard drives with additional redundant power included.
If you need more storage than a NAS, QNAP also offers REXP expansion units to scale up your storage capacity. Each NAS system can support up to 8 expansion units.
A QNAP NAS can also be set up as a storage expansion for a QNAP VioStor NVR . The NAS stores the video surveillance footage recorded from cameras into the NVR, and then transfers the files from NVR to NAS. An additional expansion SAS card can also be installed to the NAS to daisy chain up to 8 expansion units together. It can be expanded up to 1312 TB
Each hard drive slot can support up to 8 TB hard drive.
Example of a NVR and a NAS expansion set up: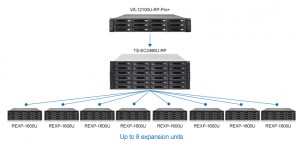 How is the maximum capacity calculated?
The maximum capacity is calculated by adding the capacity of NVR + the capacity of NAS + total capacity of expansion units.
Also, for calculation purposes, we are inserting 8 TB HDDs in each slot without any RAID array configured (NO data redundancy)
The maximum capacity will be (12 x 8) + (24 x 8) + [(8 x 16) x 8] = 1312 TB
However, 8 TB hard drives are still quite costly and no data redundancy is not a very rational gamble.
A more realistic example…inserting 6 TB hard drive for each slot and making RAID 5 array for each unit
The maximum capacity will be (11 x 6) + (23 x 6) + [(8 x 15) x 6] = 924 TB
If you are using 4 TB hard drives
The maximum capacity will be (11 x 4)+(23 x 4) + [(8 x 15) x 4] = 616 TB
QNAP also offers smaller storage solutions for NVR (12, 8 bay), for NAS (24, 16, 12, 8 bays), and for REXP expansion (16, 12 bays)
The thorough and affordable options make it easy to combine different solutions to meet your capacity need within your budget.
There are other benefits as well:
Security: Your storage solution is your vault for your important video surveillance footage. Since it is connected to a network, internet security is extremely crucial. The QNAP NAS is built with a Linux OS and is relatively safer than a windows system. If you use a windows PC/Server as your VMS, you will be frequently upgrading your windows system along with your windows storage space, which puts you at risk of being hacked.
Performance: the all-in-one system is designed to be your best fit within its solid hardware constructionand feature rich software. Also the Linux system consumes much less computer resources than a PC does. It can reach a higher performance in a similar configuration.
With its easy functionality, the QNAP NVR is not only designed for remote monitoring, but you can also plug in a keyboard and a mouse and use it as a traditional DVR as well. You will have no hassles when replacing the old DVR system with new NVR System.
With the embedded Backup Station on QNAP NAS, you don't need to spend any effort or money to find a backup solution for your video surveillance footage