For many users, QNAP NAS is a loyal partner quietly working in the office or at the corner of the home to provide various convenient and useful functions. However, sometimes the NAS will still be affected by external forces, human operations or even breakdown, resulting in unnecessary losses or inconveniences. So how can users get informed as early as possible to solve problems as soon as they emerge to avoid unnecessary disruption? Notification Center, included in QTS 4.3.5, will notify administrators/users of NAS events via multiple methods so they can respond to events in time!
One-stop system log and notification center to meet all relevant needs
Notification Center integrates the notification functions of several different apps. You can view system records using a single window operation, set notification rules for different events of specific applications, or filter according to the severity of event and keywords and customize required notification rules. If you find the event you want to be notified of when you check the system record, you can directly click it to create the notification rule. At this time, Notification Center will automatically fill in the notification criteria, saving you time and trouble and enabling you to easily grasp QNAP NAS events.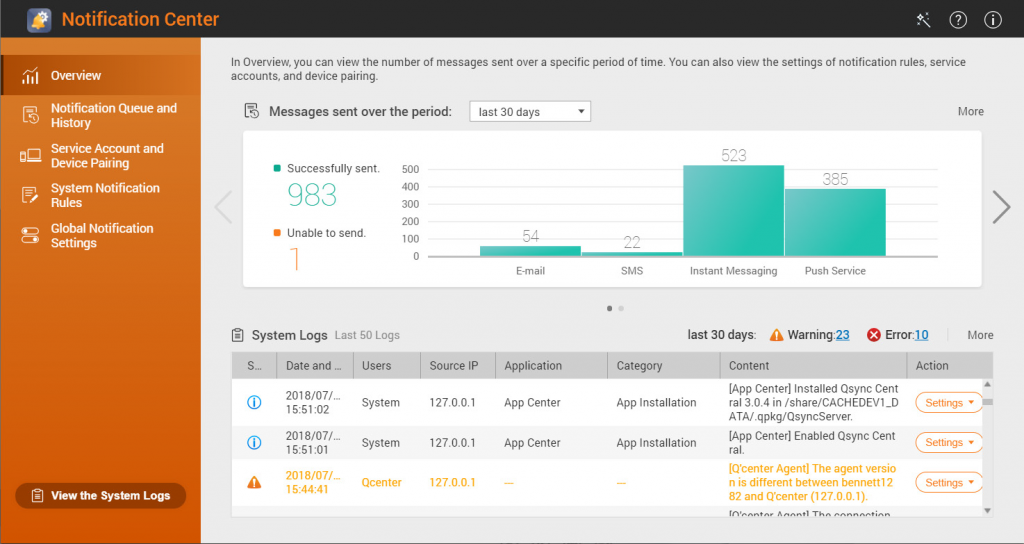 Multiple notification methods for never missing another message
Notification Center not only integrates the notification features of each app, but also adds more notification methods. In addition to original email notification, QNAP also has more SMS notification partners (Clickatell, Nexmo, Twili, etc.). For push notifications, in addition to the original Qmanager mobile app, it has also added support for web browser notifications and instant messengers (including Facebook and Skype) making it more convenient to receive notifications. Users can also confirm the notifications to be sent in the Notification Center, or view records of sent notifications so that notifications are not missed and there are no omitted details.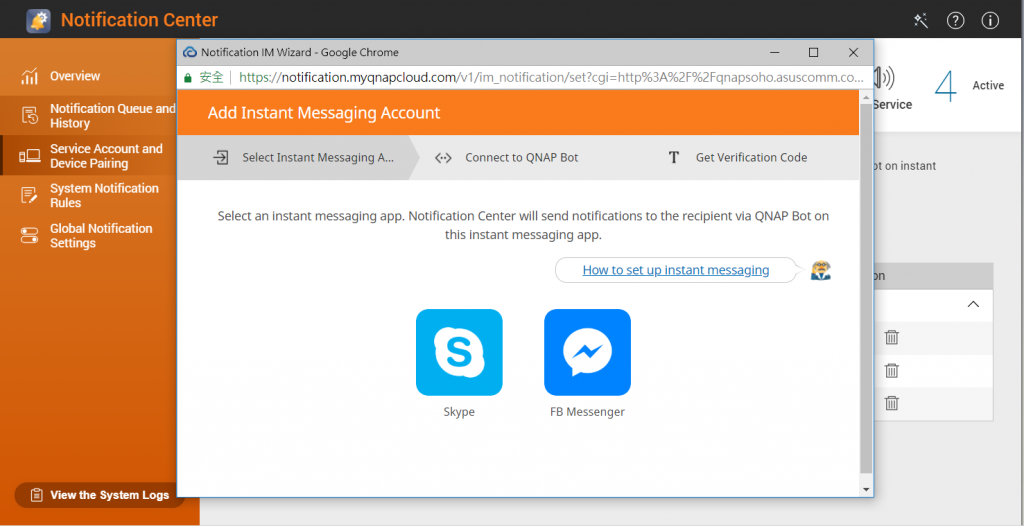 QNAP NAS is easy to manage and use while fully-featured and comprehensive
QNAP is constantly innovating to create powerful yet easy-to-use NAS products with various useful features in every QTS system update. Notification Center aggregates event logs and notifications for over 100 NAS applications/features to meet user-related needs in a single window, with more than 3,000 notification message entries and 23 languages for clearer and easier-to-understand content. When away from the NAS, users will have instant access to the information they need to keep NAS running uninterrupted and at its best. Update your QNAP NAS to QTS 4.3.5 and enjoy a versatile, efficient and easy-to-manage NAS experience!