Who says NAS has low performance? That's because you haven't seen QNAP TVS-472XT yet!
While looking for top specifications and excellent performance, one naturally would be very selective in choosing NAS. But many consumers are often of the opinion that NAS is not so performant or cost-effective, and miss the chance to try and enjoy the benefits and convenience of NAS. Worry no more because QNAP Blog is to introduce you to a full-featured, high-performance 4-bay NAS: TVS-472XT. With all kinds of built-in functions to meet the diverse needs of extreme users! How powerful is this TVS-472XT? Let us see!
Unpacking & hardware overview: generously equipped with top-in-class features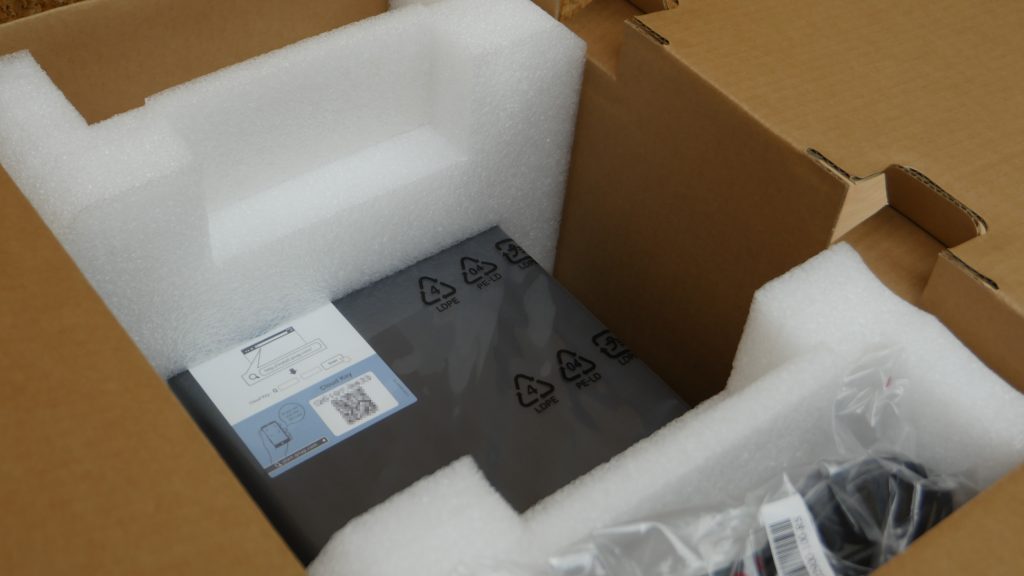 QNAP NAS has always designed its product packaging to provide the best protection, and TVS-472XT is no exception. In addition to a thick cardboard box, strong foam materials are used to ensure no dent/damage to the NAS.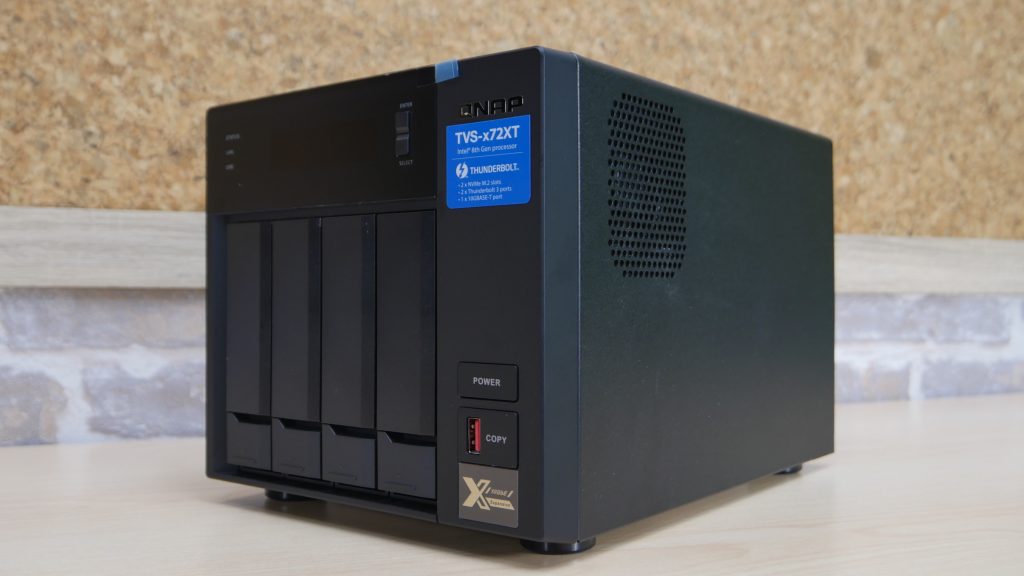 TVS-472XT uses a metal case that is popular among players. It not only appears solid, but also helps internal high-performance components to dissipate heat. The mesh on the case also guides airflow, and at the back of the main unit is a large 12 cm system fan to dissipate the heat. When TVS-472XT is running in a 25°C environment, the system temperature is only 28°C, whereas the processor and hard disk are around 38°C to ensure proper functioning of the NAS.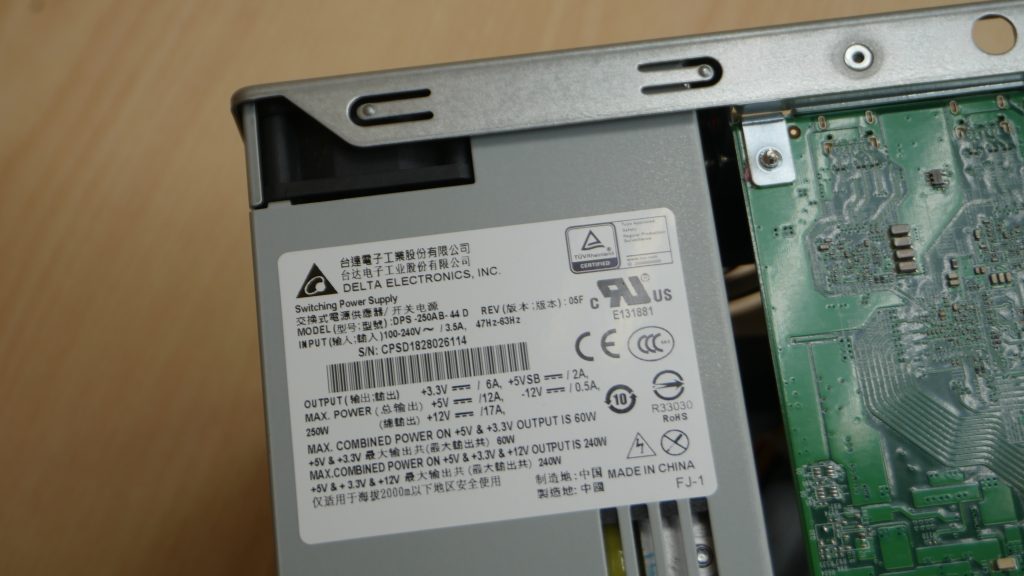 After removing the metal casing, you can see that TVS-472XT uses the well-known brand Delta's PSU (power supply unit) to maintain stable power supply and ensure data security.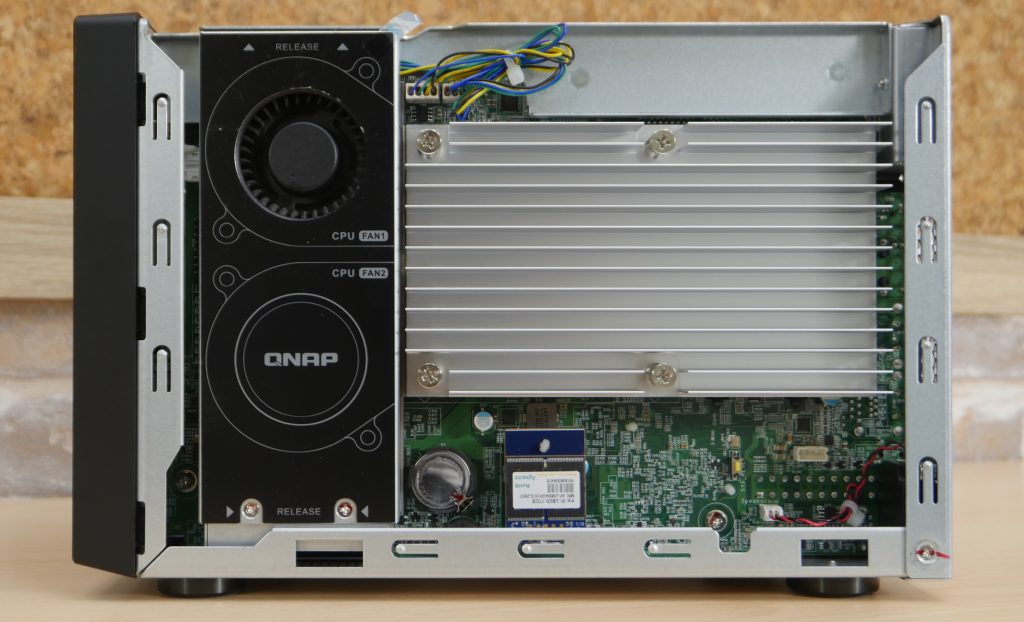 On the processor side of the motherboard, the dual processor fans and large air flow guiding heat sink are quite eye-catching. High-performance system components naturally require good cooling mechanism for NAS to provide superior performance at any time.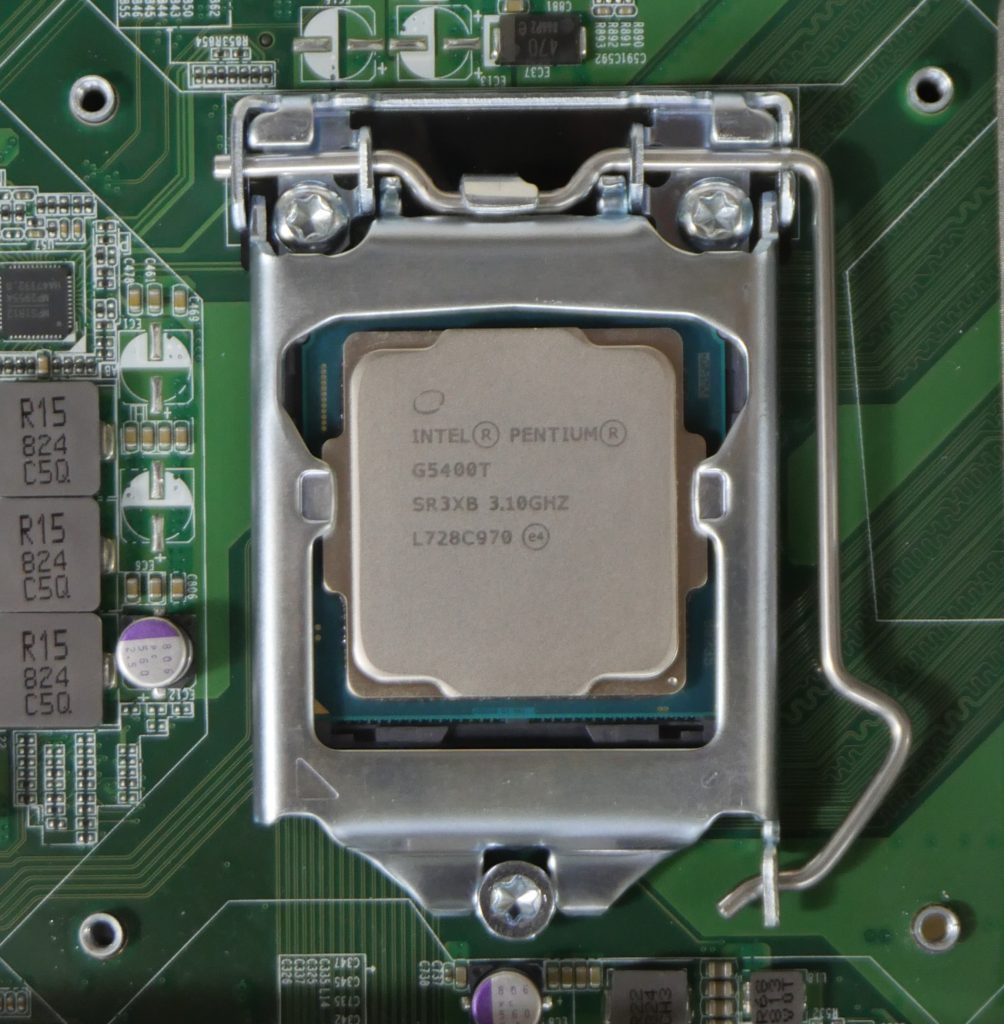 After removing the heat sink, you can see the heart of TVS-472XT: the Intel® Pentium® Gold G5400T processor. Different from some NAS brands on the market still with very old processors, QNAP always keeps up with new generation of processors. G5400T is the new eighth-generation processor just launched by Intel. Its dual-core, four-thread, 3.1GHz design delivers more than twice the performance of an Intel® Celeron® processor used by many NAS. It not only has sufficient performance for high-speed file operation, but also provides powerful computing power for users to come up with any NAS usage ideas.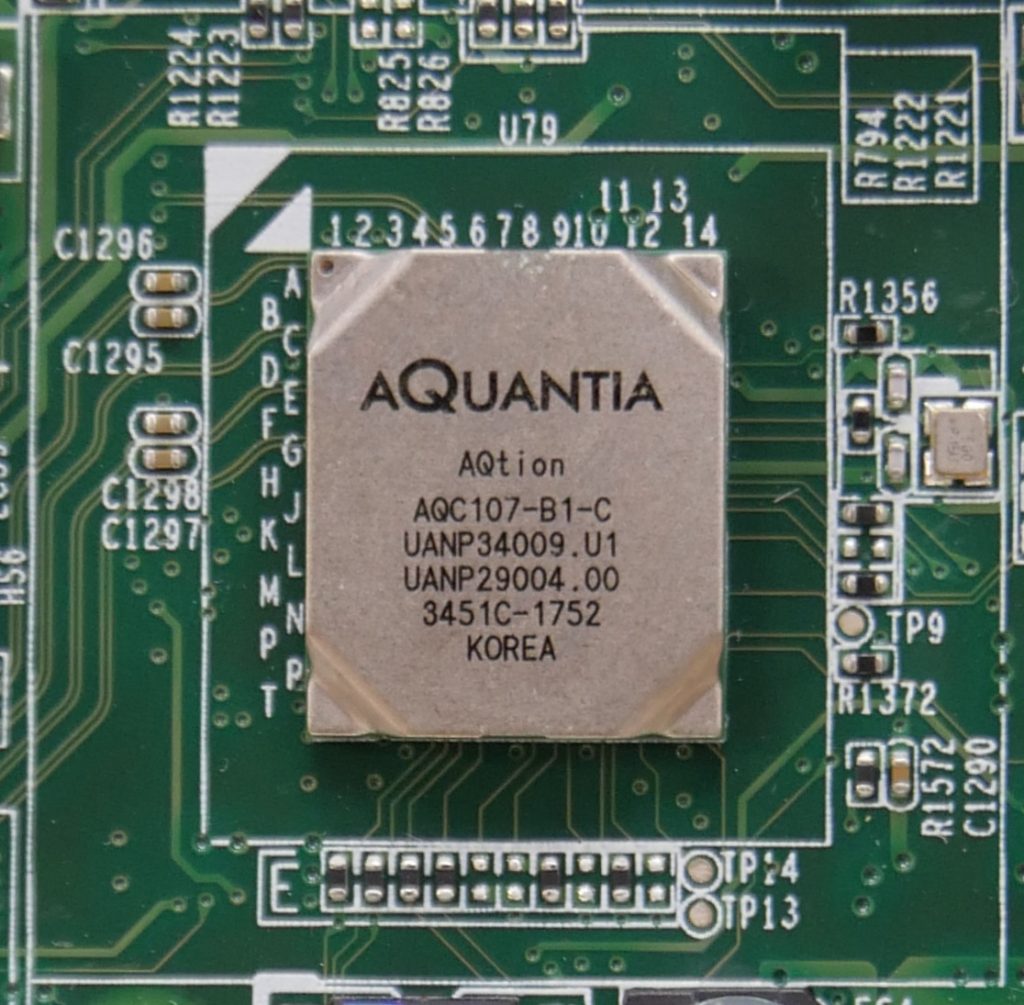 The large air flow guiding heat sink also provides heat dissipation for TVS-472XT's high-speed network chip. The AQtion AQC107 NIC from the well-known manufacturer Aquantia is used here to support 10GbE speed, the latest 5Gb/2.5Gb and common 1Gb/100Mb speed. Currently, more and more home routers on the market support speeds above 1Gb. With faster connections, 4K or 8K media transmissions become smoother, and large file transmissions are faster than ever.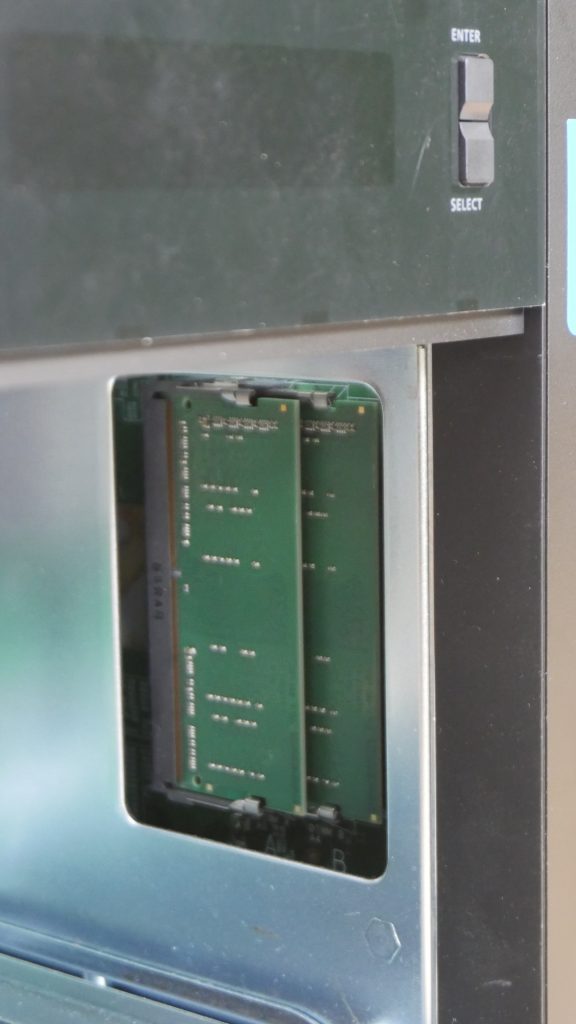 The other side of motherboard has memory module slots. TVS-472XT RAM is user-replaceable. Opening at the inside of the drive bay allows you to upgrade RAM modules without disassembling the machine. TVS-472XT uses new generation DDR4 specifications, which not only improves speed but also saves power.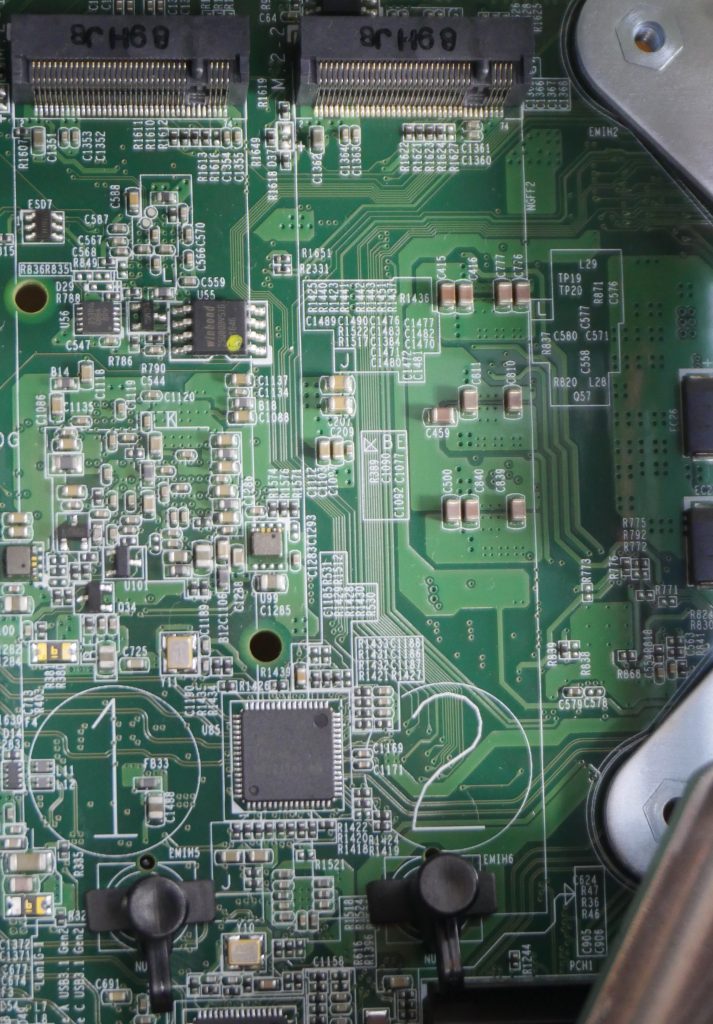 There are also two M.2 PCIe NVMe slots on this side of the motherboard for SSDs. If you need high-speed read/write and random access performance of SSDs and don't want to use normal hard disk slots, you can use the M.2 slot to install SSDs, so that you not only enjoy high capacity of HDD, but also high performance of PCIe NVMe SSD.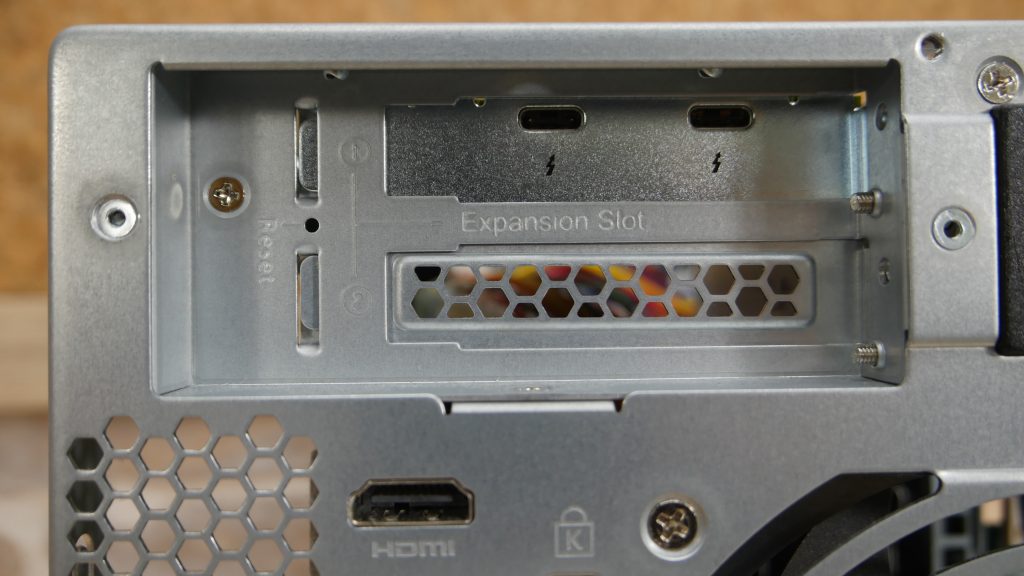 On the back of the main unit, TVS-472XT has two PCIe slots for prosumers to install various expansion cards such as 25Gb NICs, so that you can flexibly upgrade and scale the NAS hardware. One of the PCIe slots is pre-installed with dual-port Thunderbolt 3 expansion card. Thunderbolt 3 is a high-speed connection interface commonly used on Mac computers. It is also becoming more common on Windows PCs. It is not only fast, but also capable to daisy-chained to connect various devices more conveniently.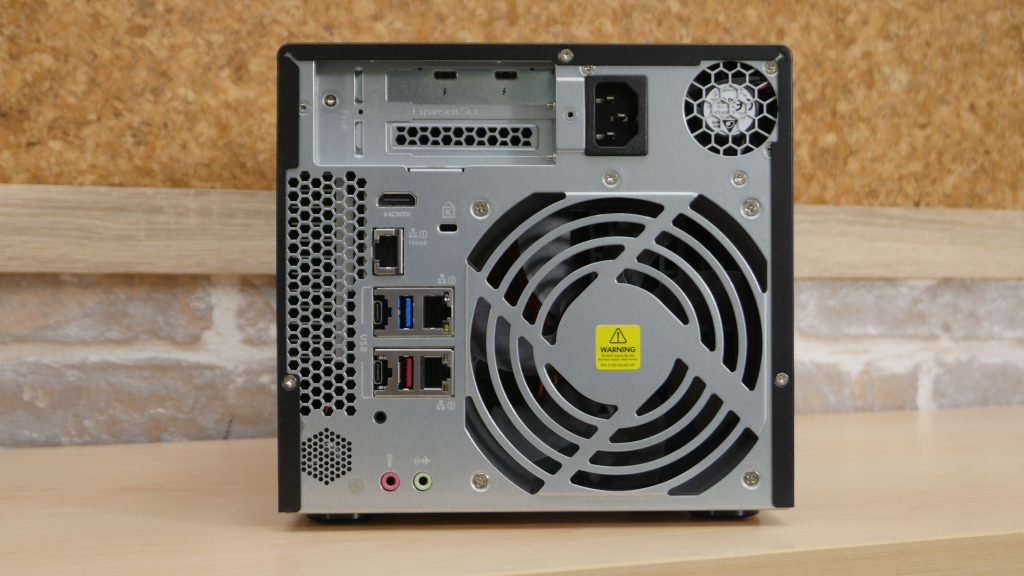 The G5400T processor of TVS-472XT comes with the Intel® UHD Graphics 610 processor graphics capability built in, with one HDMI 2.0 output on the back of the main unit. It can output 4K 60fps pictures directly from the NAS for NAS operation or for enjoying high-definition entertainment. You can even use external mouse with NAS to operate TVS-472XT as a normal PC via virtual machine (VM). This also enables TVS-472XT to have more usage, and be omnipotent!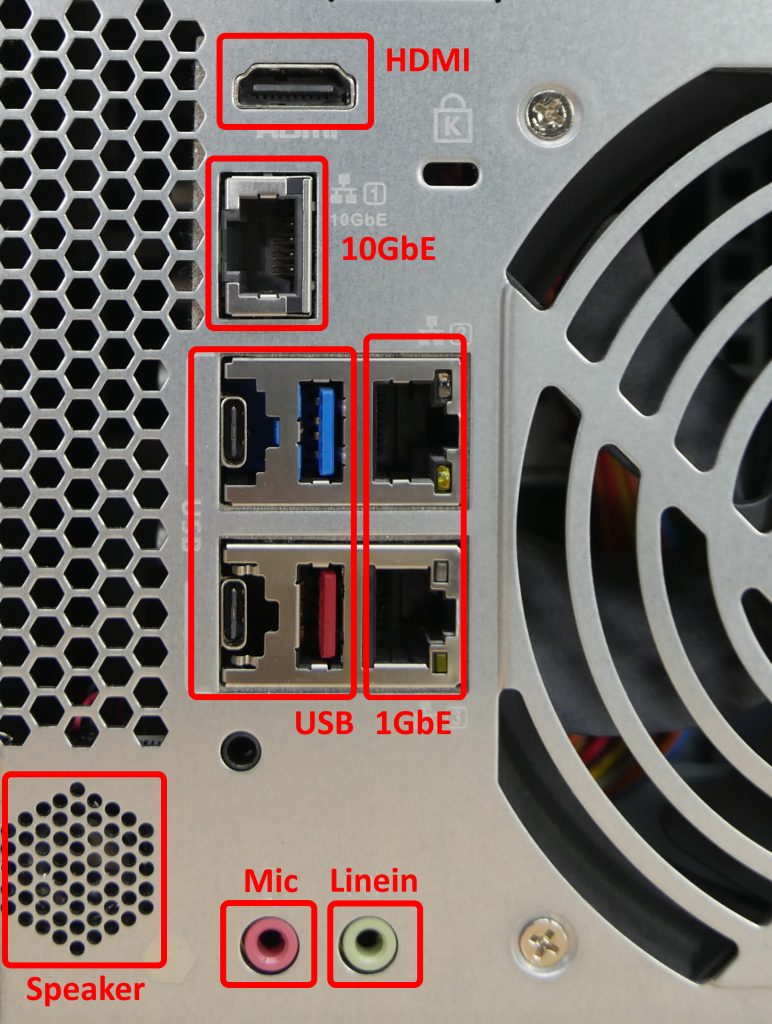 On the back of the main unit, you can also see the five-speed 10GbE network port described above. There are two 1GbE network ports, three USB 3.2 Gen 2 ports (one on the front, four in total for the whole unit) and one USB 3.2 Gen. 1 port, as well as microphone and speaker jacks. TVS-472XT is equipped with various ports to make the NAS more powerful and widely applicable while maintaining power efficiency, stability and compact size. Gamers and prosumers can be very creative in unleashing the power of NAS!
Software overview: user-friendly and smart operation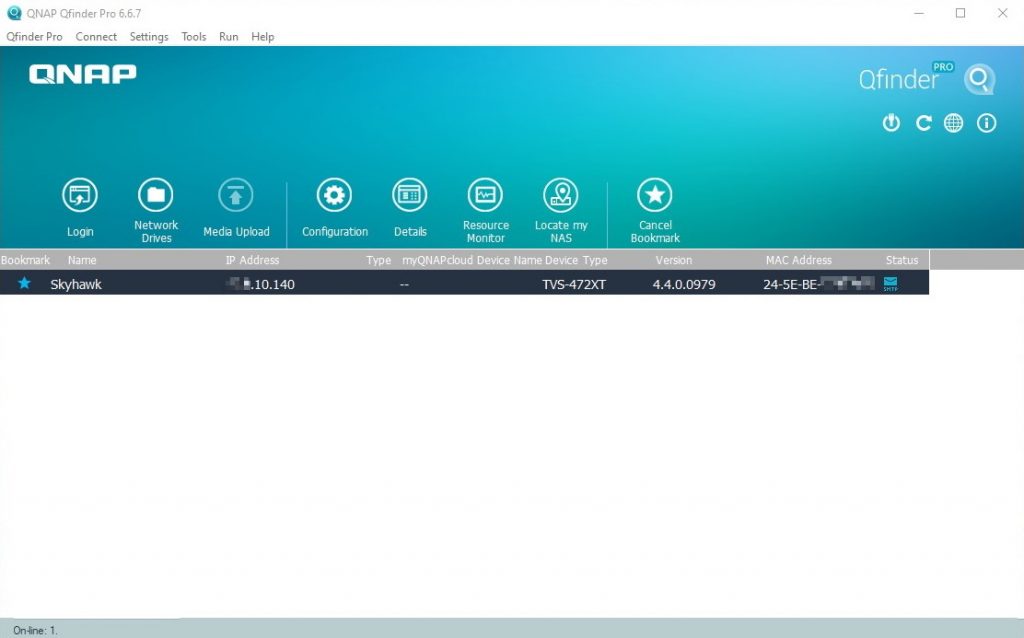 After installing hard disk, connecting network cable and power cord, you can boot up TVS-472XT for initializing the NAS. The initial installation steps are straightforward. Simply search and connect to the NAS via Qfinder Pro, set a password, confirm system time and network configuration, and select the services to be started. It will take a few minutes for the system to complete the initialization procedure.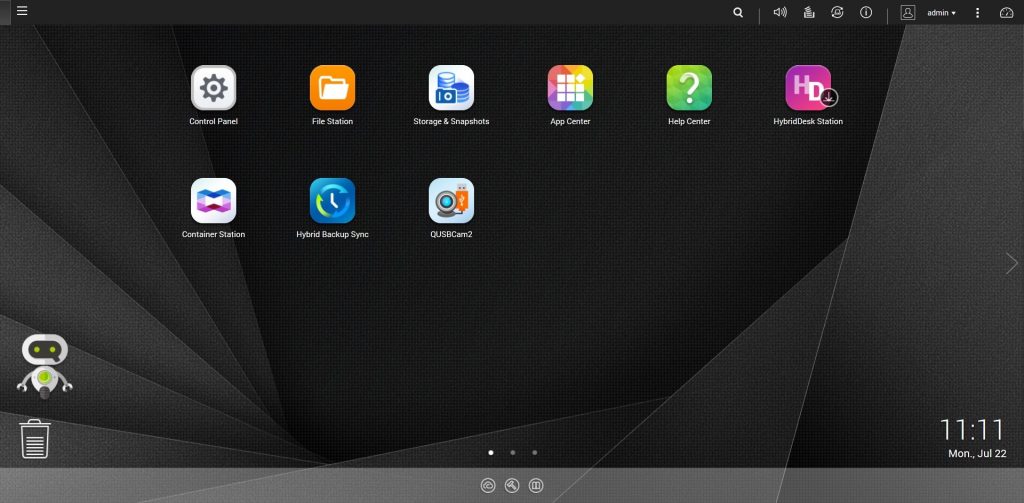 The QNAP NAS operating system is called QTS. It has a proprietary web-based graphical user interface that can be easily operated with a mouse. When you first enter the operating interface, you need to configure storage space first before you can start storing data.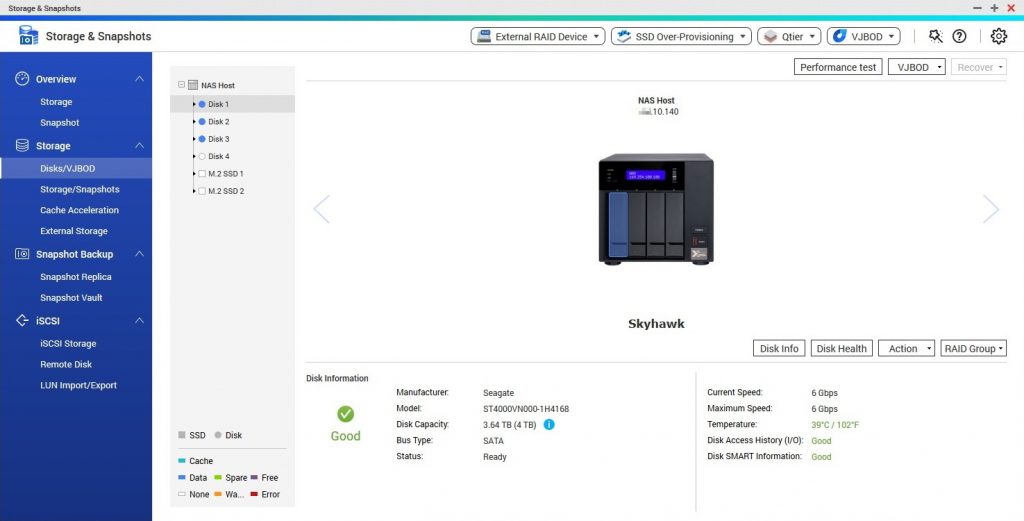 TVS-472XT has four 3.5-inch hard disk slots, and it is recommended to install large-capacity conventional mechanical hard disk drives (HDD) here. TVS-472XT allows hard disks to form a disk array, which not only increases read and write performance, but also avoids data corruption caused by hard disk failure. A typical user can use a minimum of three HDDs to form a RAID 5. This configuration provides faster speed and preserves data in the event of single hard disk failure.

However, the free space for a RAID 5 configuration is n-1 because one disk of the spaces is used to protect data. If two disks fail at the same time, the data will be lost, so please be sure to replace the first hard disk when it fails to avoid accidents. For better protection, choose a RAID 6 configuration that allows two hard disks to fail; if you need higher read and write performance, you can use RAID 10 configuration.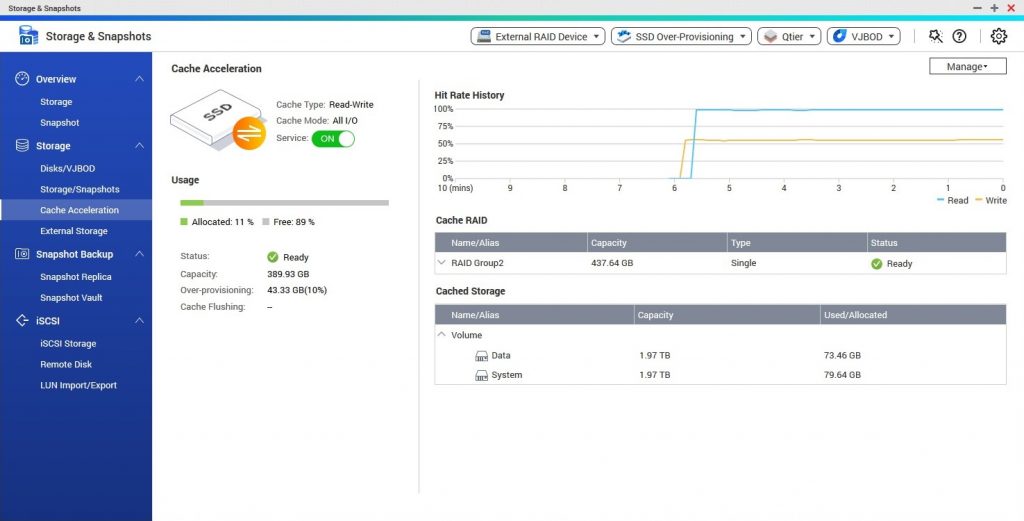 With large capacity of HDD, you then need to meet extreme users' need for SSD read and write efficiency. TVS-472XT has two M.2 PCIe NVMe slots (each slot has a bandwidth of PCIe 3.0 x2) for installation of ultra-high speed SSD to meet user requirements. The SSDs on these two M.2 slots can be used to create actual storage space for important files and applications that require high performance. They can also be used as an acceleration cache for HDDs. The read and write speed of 3 HDD RAID 5 with SSD cache greatly exceeds that of 2.5GbE network bandwidth, so you no longer need to stare at that loading progress bar when speed is so important!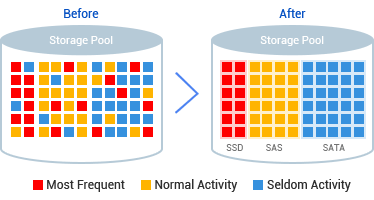 To use SSD storage more efficiently, QTS also provides a data storage technology called Qtier, which automatically learns data usage frequency and moves data between HDD and SSD. Most used files will be stored in high-performance SSDs, while less used files are moved to the high-capacity HDD to ensure that the characterisitcs of different drives are fully utilized.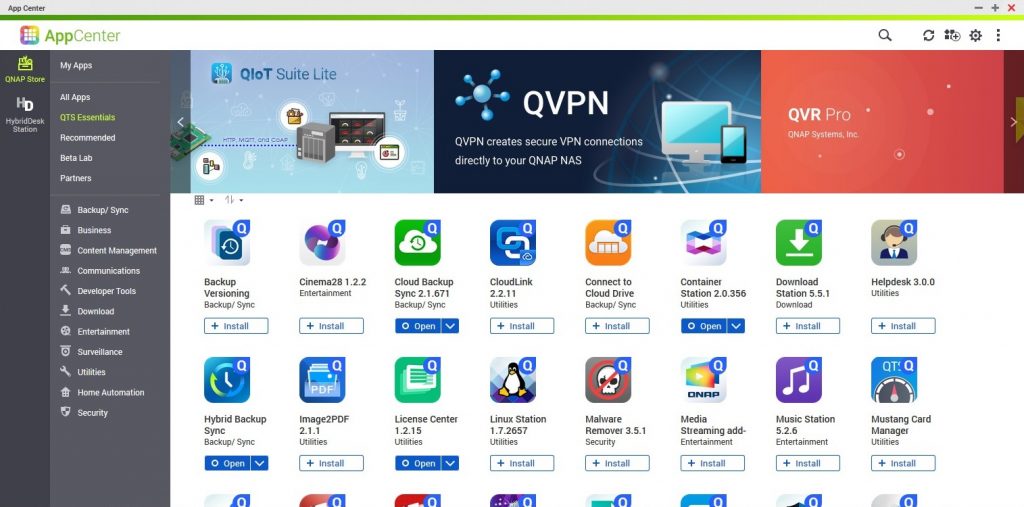 Once the storage space is configured, you can download various apps from App Center in QTS to make TVS-472XT smarter and more in line with individual user's needs. To manage massive videos, download Video Station; to help identify and organize photos with AI, download QuMagie; to sync with Google Drive and other clouds, download HBS 3; App Center has countless software to enrich your digital life.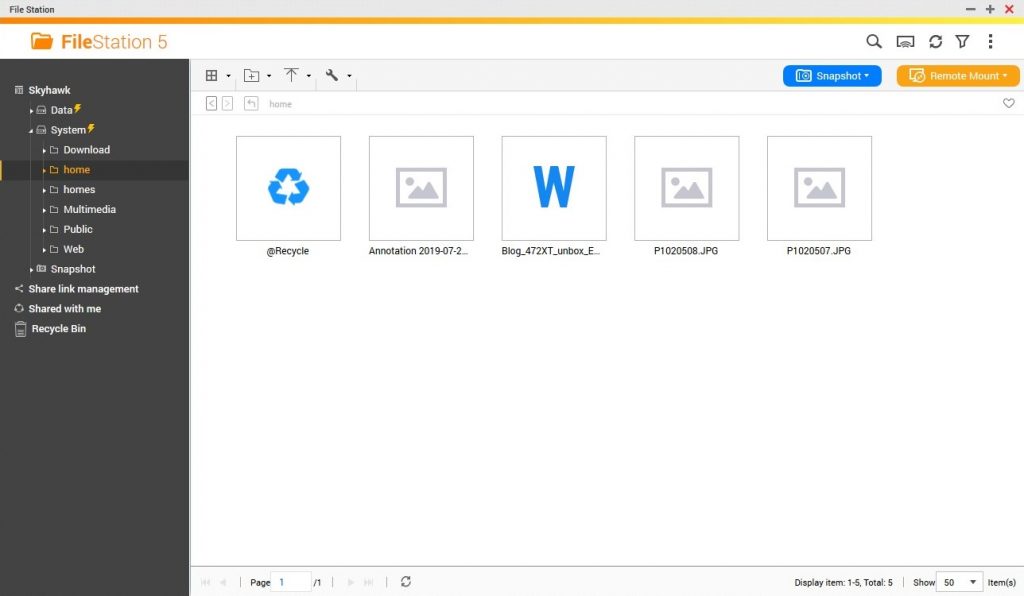 File Station is all you need to manage files on the NAS in QTS. This built-in app is like "My Computer" in Windows, where you can control all folders and files on the NAS. You can also set up cloud space such as Google Drive, OneDrive and Dropbox, and use File Station to browse and manipulate files on the cloud.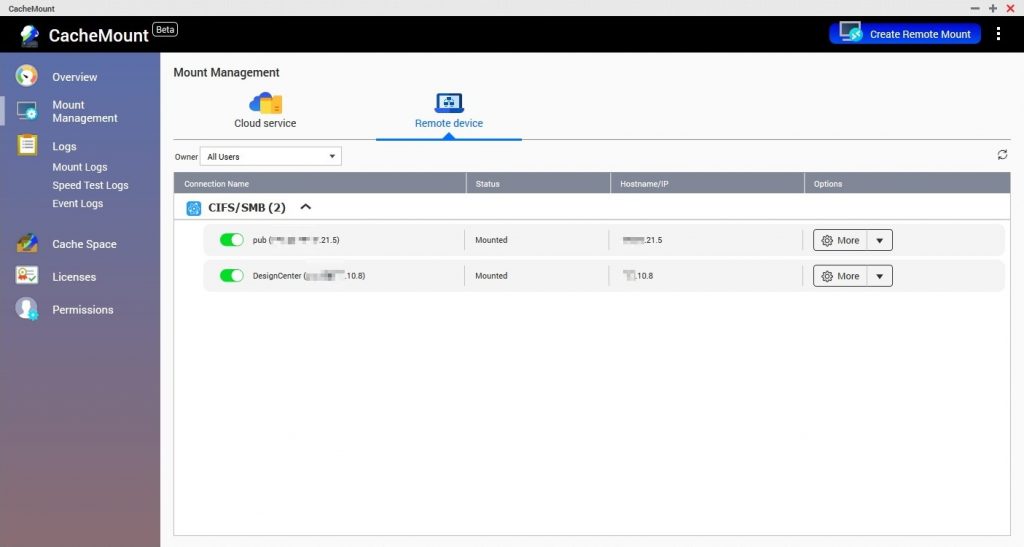 The upcoming QTS 4.4.1 official release includes the CacheMount file-based gateway feature, which allows you to accelerate access to cloud space such as Google Drive, OneDrive and Dropbox.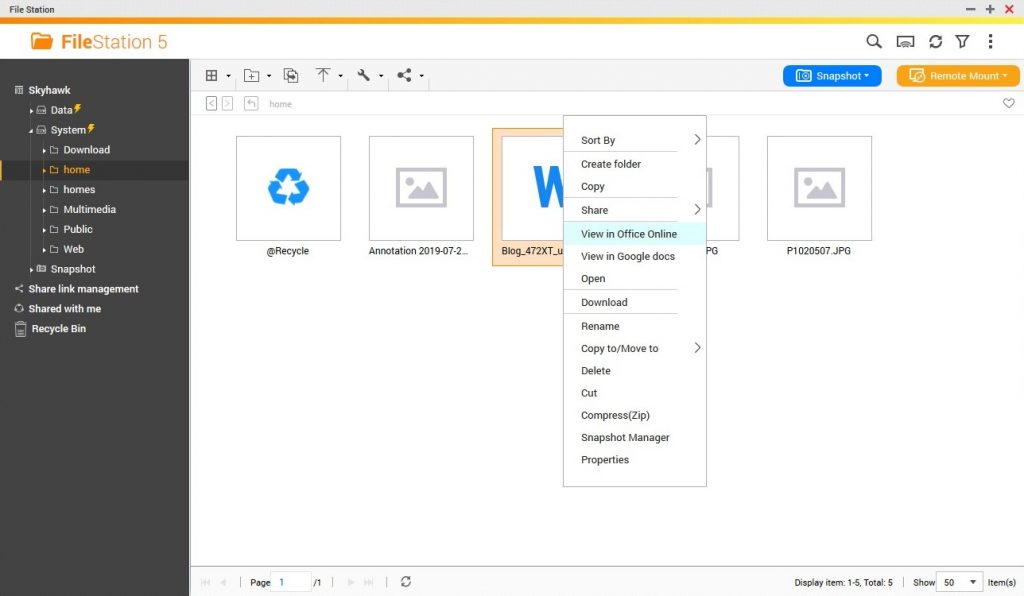 In QTS 4.4.1, to open Microsoft Office documents, you can launch Office Online directly in File Station for viewing and editing, without downloading files to the PC for operation and then uploading them back, which makes the workflow much smoother.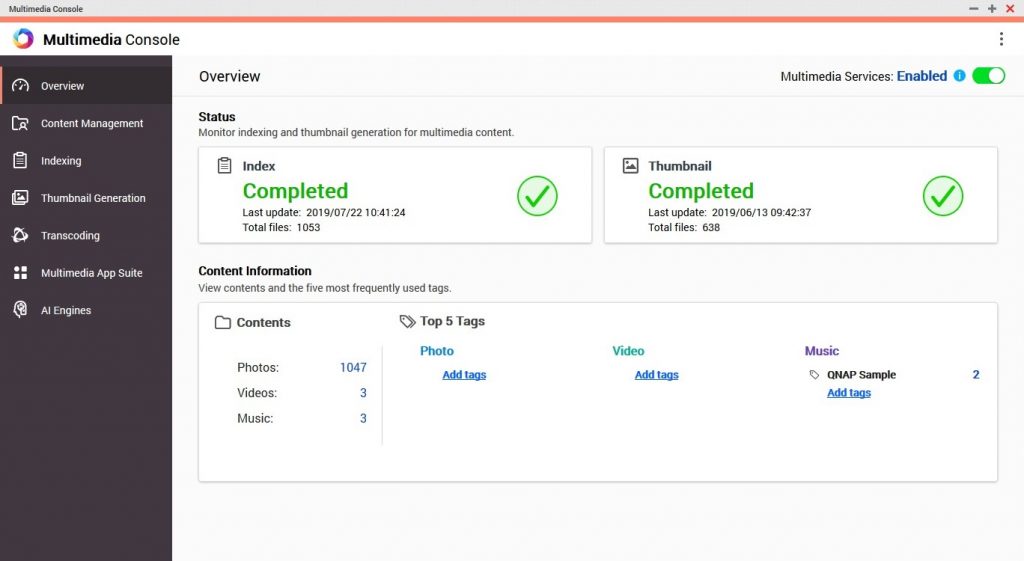 If you want to use NAS to meet all entertainment needs, then you can't miss TVS-472XT! Once multimedia file folder is set through the Multimedia Console, the system will index and create thumbnails for all media files, and QNAP's new QuMagie smart photo management app will create smart albums of various people, objects and scenes according to AI classification. This really makes photo management a breeze.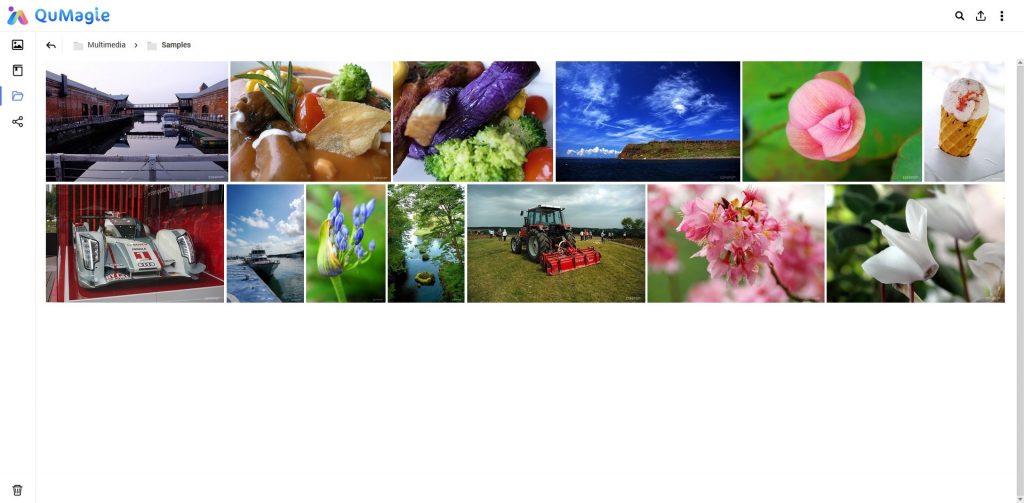 If you have a lot of of videos, you can stream the videos on your NAS to your phone, tablet or big screen via DLNA or Plex, and enjoy the videos instantly. TVS-472XT can also download more entertainment apps to make life more interesting, such as OceanKTV, which makes NAS into karaoke, and DJ2 Live, which builds a small live streaming platform. All of them are available for free download now!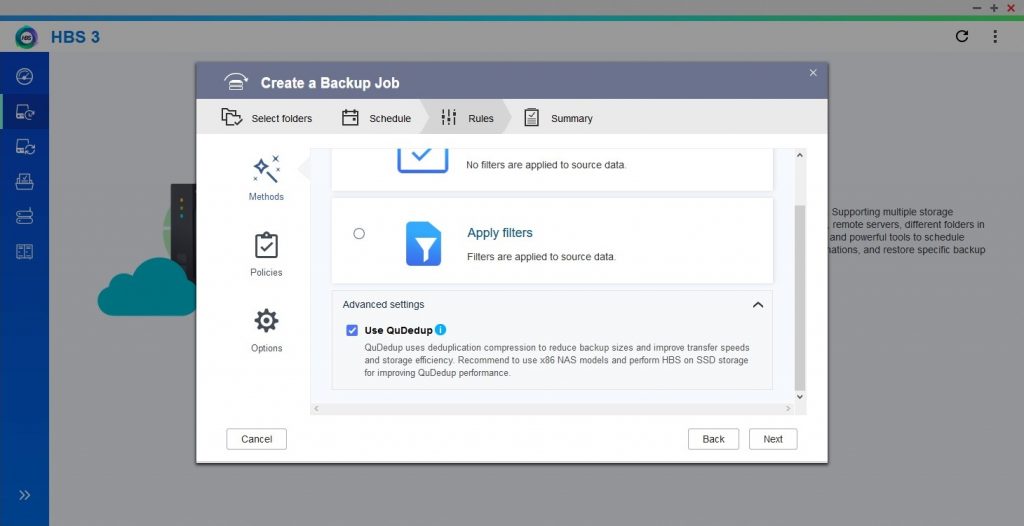 As TVS-472XT stores more and more data, proper backup becomes even more important. QNAP's new HBS 3 not only supports backup/restore/synchronization to multiple destinations, but also supports QuDedup data deduplication technology for backup/restore tasks to help you save time on network backups to off-site NAS or cloud space. Backup efficiency is a must for complete file protection.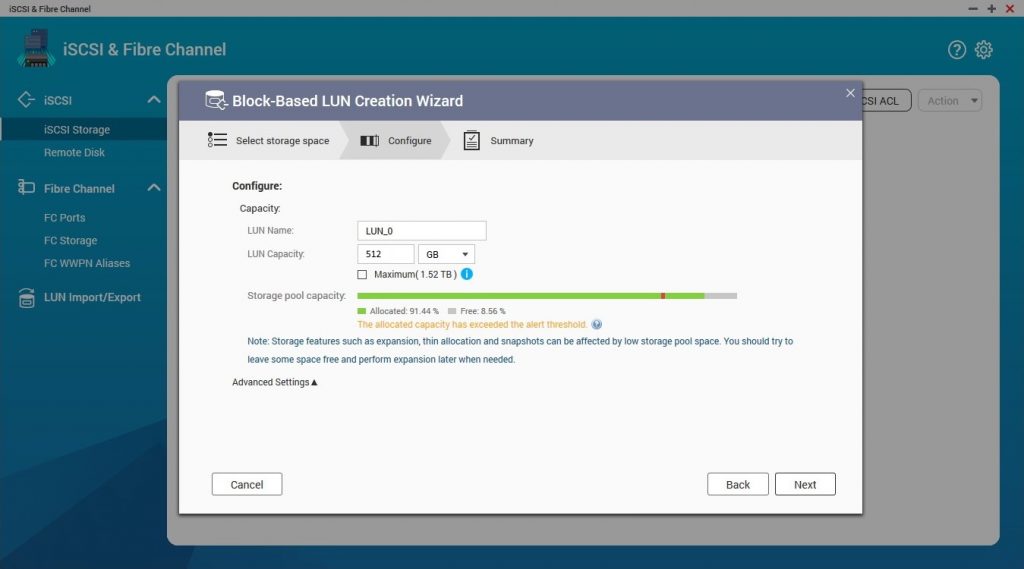 Not enough PC storage space? Want to appripriate some space from the large-capacity NAS? No problem. Just configure an iSCSI LUN on the NAS, and you can then make a part of NAS space available to the PC, and easily use it just like any PC internal hard drive while enjoying NAS disk array protection at the same time.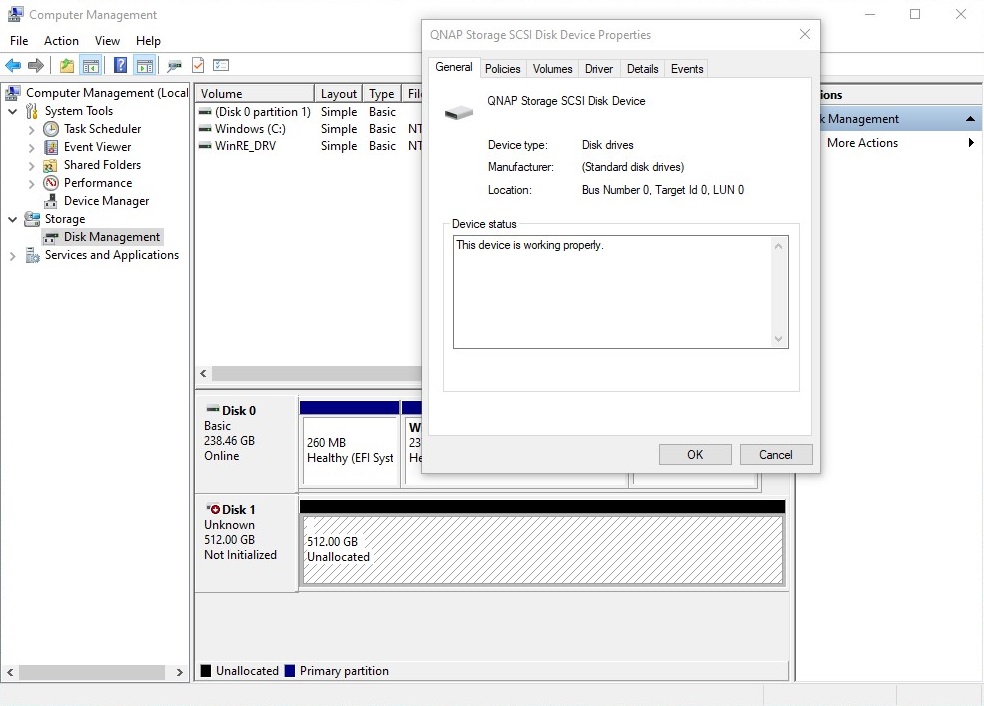 For video game players, many games are downloaded directly to the local machine, and disk space is easily used up. Adding PC dedicated hard drives adds up the cost. It is better to invest in NAS to create a shared space for more cost efficiency.And TVS-472XT is powerful enough that its performance is comparable to local hard drives! Streamers can also directly record to iSCSI LUN on NAS, and efficiently back up live video with high efficiency and capture every moment of the game!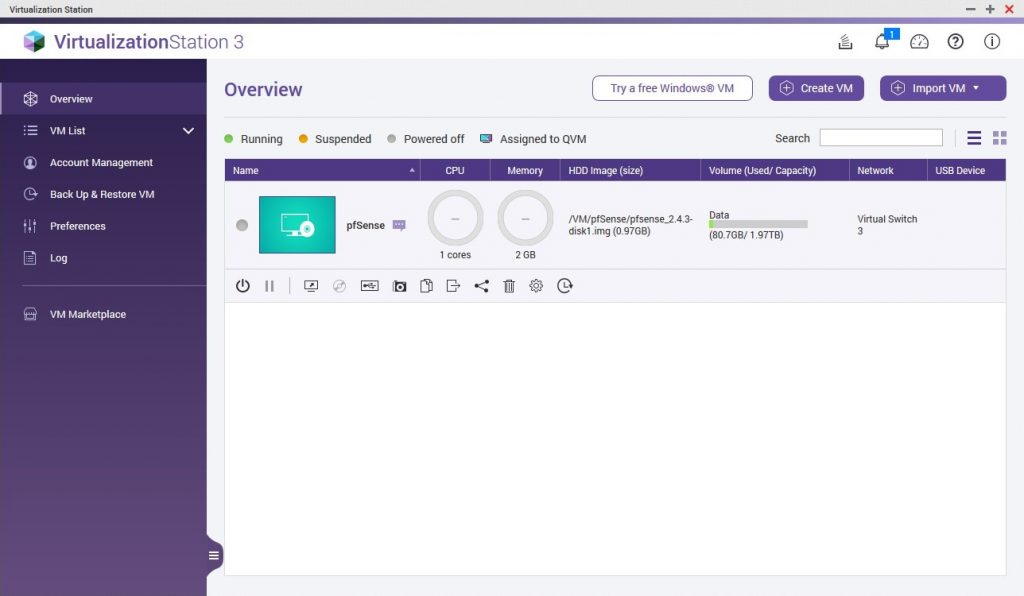 Extreme users and prosumers who want to build soft routers or firewalls can also use TVS-472XT to implement such architectures. Just use Virtualization Station to mount a virtual machine image such as pfSense or LEDE, and then configure the VM network with virtual switch function to easily create a dedicated and versatile professional-grade network application. Integrating multiple services into a single NAS cut the clutter in your house without spending a bunch.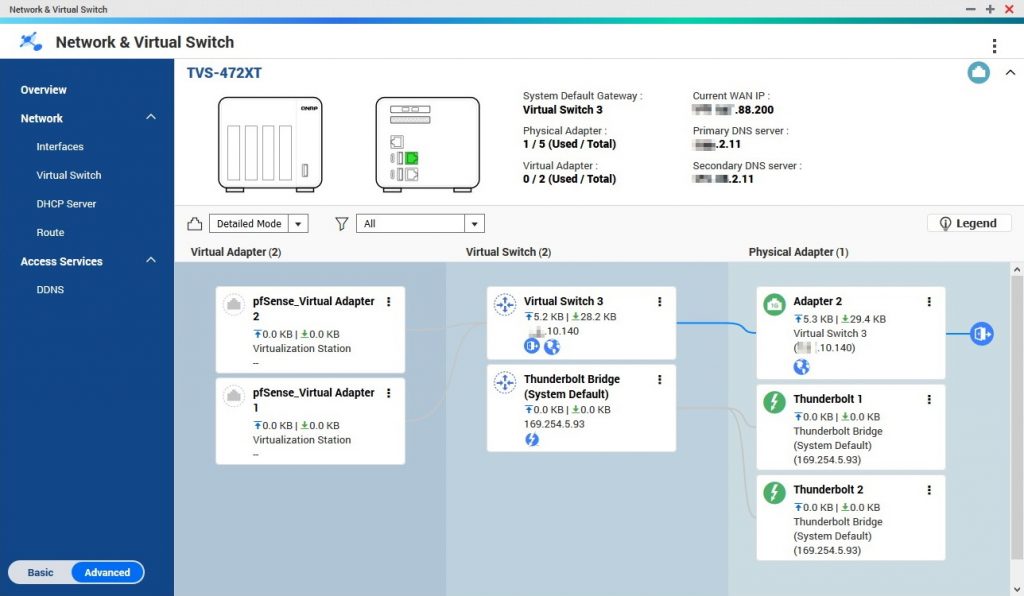 Beyond imagination, more than storage: the best NAS solution for advanced users
Does TVS-472XT subvert your impression of poor performance of NAS? Are you surprised that current NAS is so advanced to allow you to do so much? That's right, QNAP NAS is no longer just a data backup destination; it is a high-performance multi-function server that can realize your digital imagination and make work and daily life easier and more convenient. TVS-472XT is designed with four drive bays to meet users' needs. It integrates the latest technologies, and provides a variety of easy-to-use apps, so that your creativity is no longer limited. With TVS-472XT to build your very own solutions, it can meet all your needs for everything you can imagine about digital life and entertainment!