Since 2004, Gmail has become the most popular email service in the world. You can use up to 15 GB cloud storage on Google to store all your emails. Though 15 GB might have been sufficient 10 years ago, nowadays it might not be large enough storage capacity for emails. As a result, we need to periodically clean out our inboxes. But is this "simple" process foolproof? According to Backupify's report "Causes and Solutions for Google Apps Data Loss,", the #1 reason for data loss within Google Apps is user error – which is 63% of losses reported. We will occasionally delete the wrong files but 0% are lost due to the infrastructure failure are destroyed from disaster.
Should I backup my Gmail data? Absolutely. So, where can I backup my Gmail and how do I do it? QNAP offers the easiest way to back up, restore, migrate, and view your emails on the QNAP Turbo NAS. The free 15 GB storage limit is no longer your concern.
This article will introduce the Gmail Backup feature on QNAP Turbo NAS.
Gmail Backup App is supported in all x86 based QNAP Turbo NAS with QTS 4 and provides two types of account backup: individual and domain.
To back up your individual account, just simply enter the email address and the password. If you don't want to authenticate with the credentials through the QNAP NAS for safety concern, you can use Google OAuth to authorize access to your Gmail account. For information on Google OAuth, you can refer to: http://en.wikipedia.org/wiki/OAuth.
If you would like to back up the domain email, you'll need the OAuth domain key for your domain email. For acquiring the OAuth Domain Key, please sign in to http://www.google.com/work/apps/business/ and download it from your account page.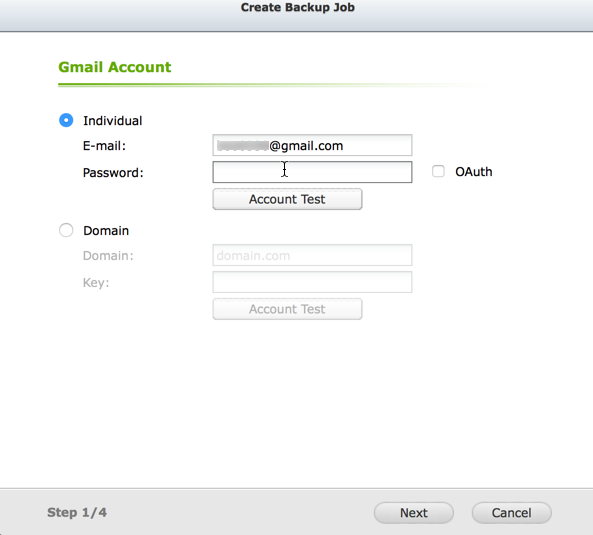 After setup all your Gmail accounts on the NAS, you can view the essential information on the Dashboard, such as the account amounts, used and available capacity, the next backup schedule, and the last backup history.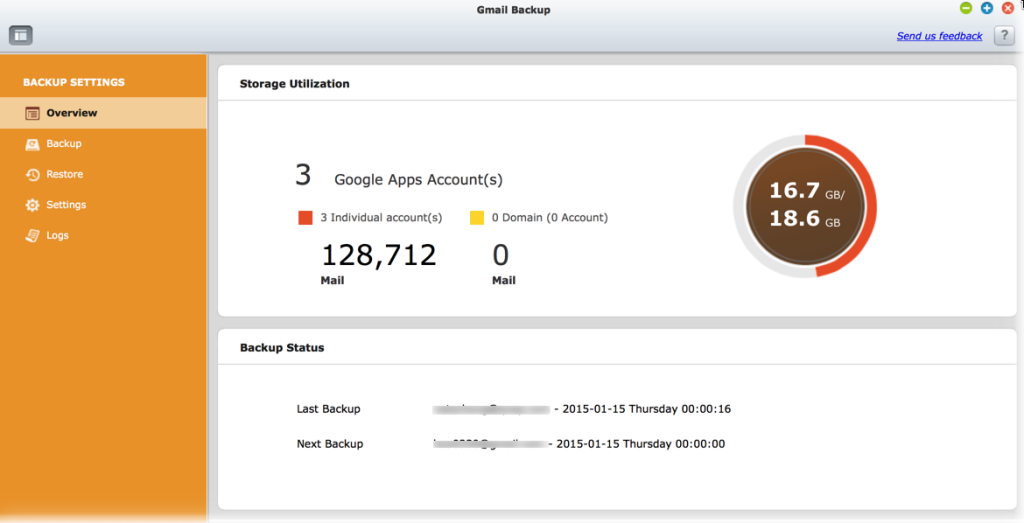 The backup details can be found in the Backup page, such as your remaining capacity and backup status.
In the account setting, you can setup different volumes for different accounts, and also the backup schedule, such as hourly, daily, weekly, monthly, and intermediately. Another cool thing is you can back up a specific range of time, for example, 2012, January, 1st to 2013 February, 30th.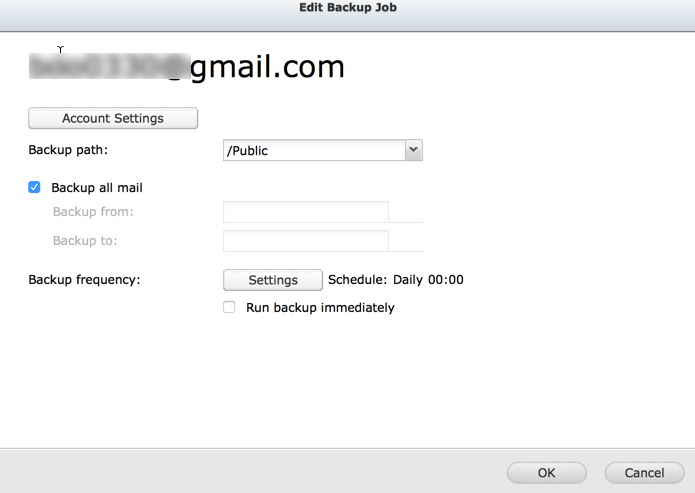 In the Restore page, you can also restore the backup to original Gmail account or migrate the backup to another Gmail account.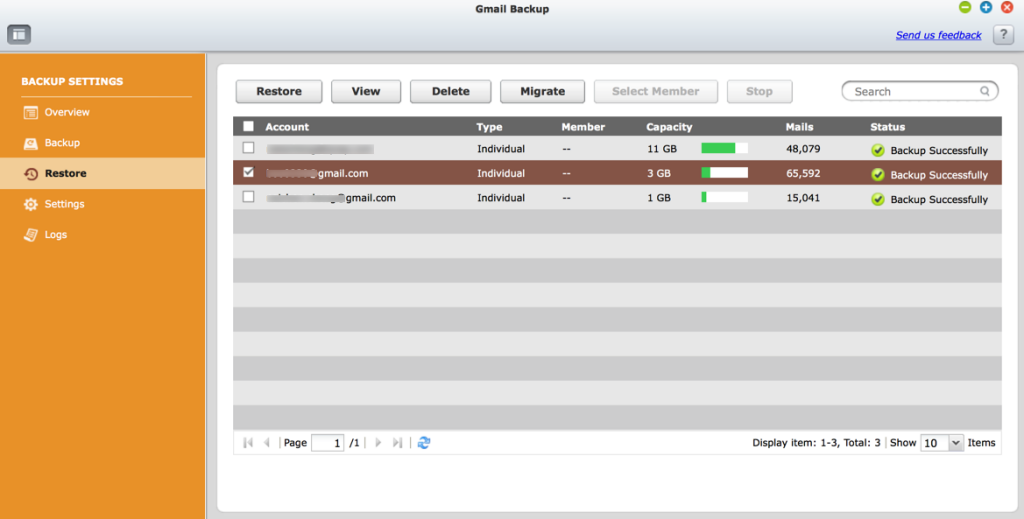 Another neat feature is you can also view the backup mail on the NAS through the browser, opening, deleting, and downloading it to your computer.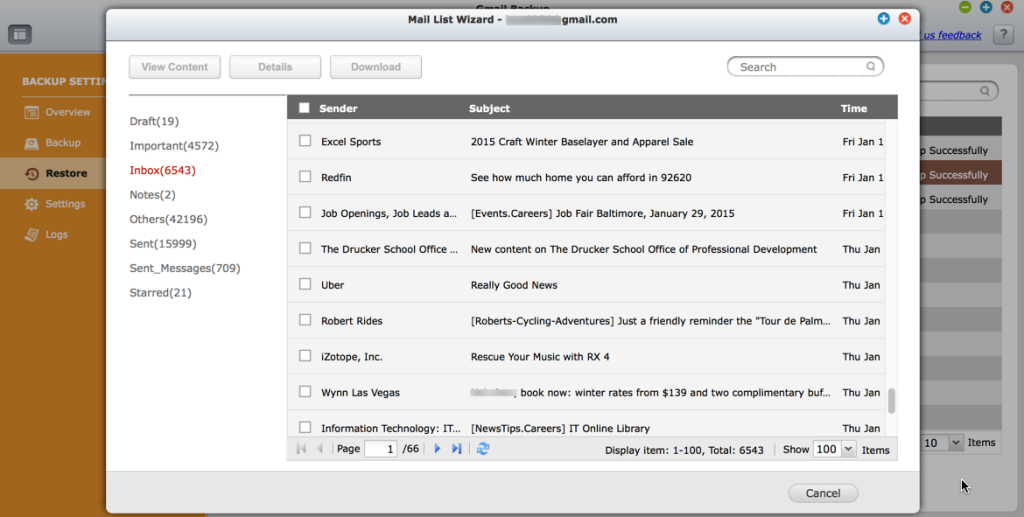 You can find the detail setting options in the Setting page, such as the default backup volume, maximum concurrent backup threads or the maximum storage you can use on the NAS.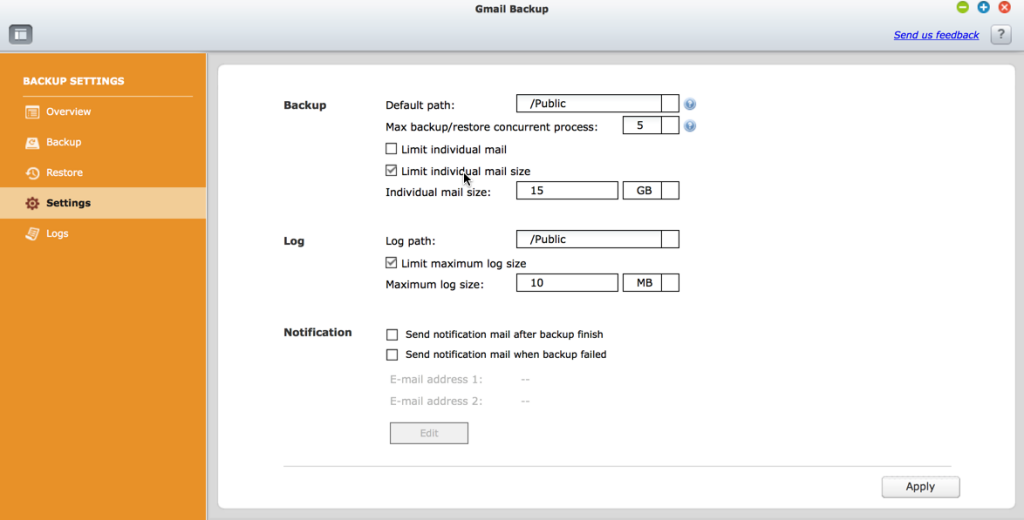 The log page shows the history of every incremental backup task which you can also download to your local computer.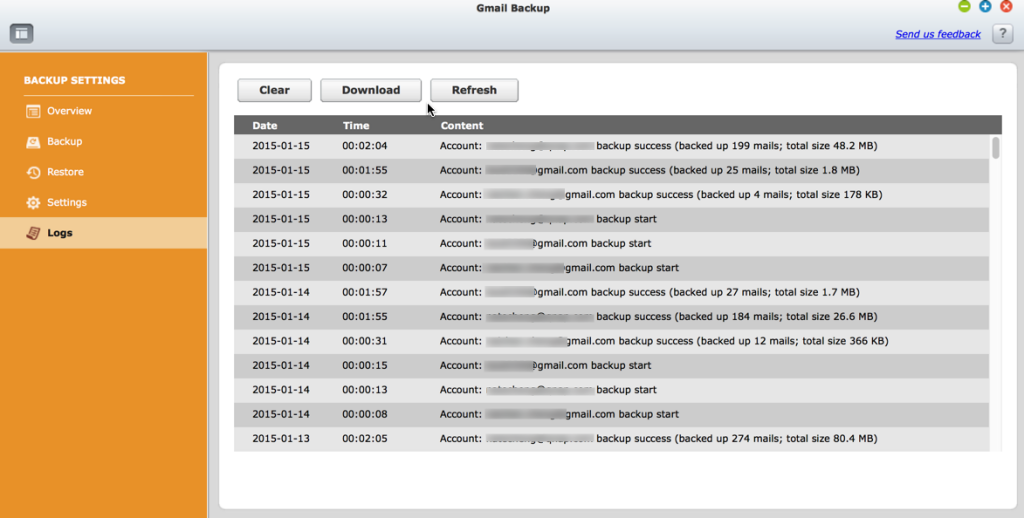 Overall, QNAP offers a very simple way to back up the emails in your Gmail account to Turbo NAS! Once you have installed the application, simply follow the easy steps to setup your Gmail account, then complete scheduling for backup, restore, or migrate your backup to specific account. It's a free, no-cost option on NAS and easy to use for everyone, with no technological background required.