Using cloud drives can be convenient, but it comes with some issues as well. When multiple users over the LAN are syncing the same file(s) from/to the Internet, it can consume a lot of bandwidth. Also, different services require different utilities to be installed on the client, which can be a drag for PC performance. But bother no more now, because QNAP's HybridMount technology can help to tackle these problems.
HybridMount is a new component introduced with the release of QTS 4.4.1. With HybridMount, you can set the NAS to connect to different cloud storage services (such as Google Drive, OneDrive, Dropbox and more), acting as a gateway between your local network and the Internet. File reads/writes will be cached on the NAS, accelerating client-side operations. The NAS will then sync files with cloud services, saving you precious bandwidth and time.
Client-side operations over LAN: fast and efficient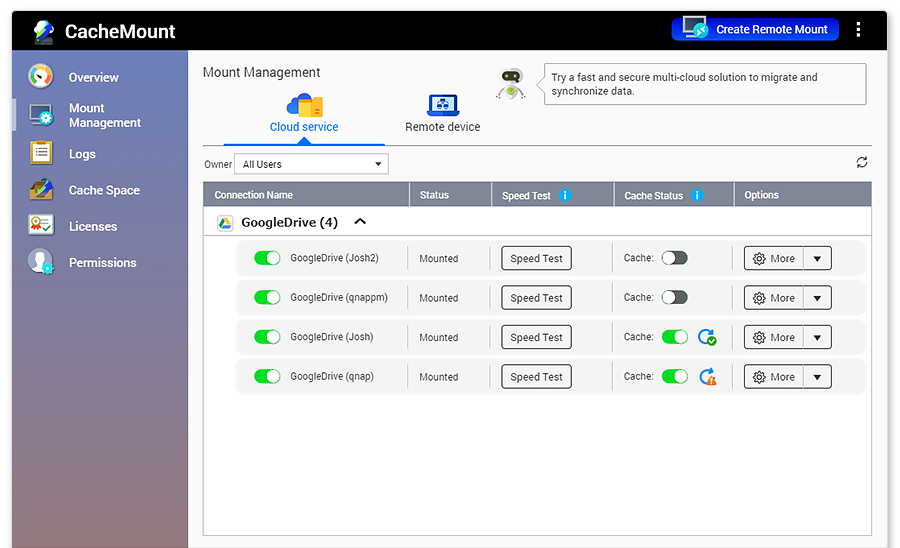 When a client requests a non cached file from the cloud, the NAS with retrieve it to the cache first, and then deliver the file locally to the client. All subsequent reads of the same file will be directly served from the NAS cache. When a client wants to write a file to the cloud, the file will be locally written to the NAS cache first, and then the NAS will sync the file to the cloud. This not only saves a great deal of time for all clients, but also better utilize bandwidth for the value of your money.
Local cloud cache access with SMB/AFP/NFS: streamlined deployment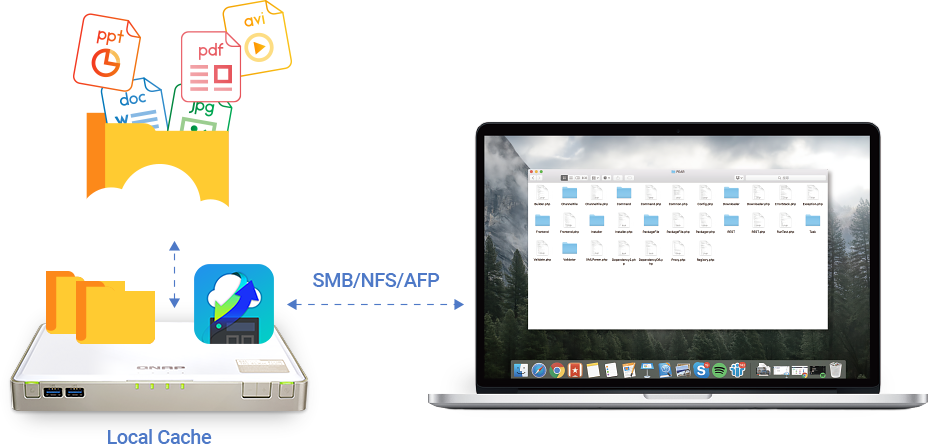 Once set up, clients can access cloud services via QNAP NAS with SMB/AFP/NFS protocols that are built-in in most operating systems. Service-specific utilities are no longer required! This can save deployment time for IT administrators and users will have the same experience across different services.
Multiple NAS apps/services available: Qsirch, Qfiling and more
After you mount your cloud storage on QNAP NAS with HybridMount, you can make use of a versatile array of apps and services to work with your cloud storage data. For example, Qsirch makes finding cloud-based files much easier and Qfiling automates file organization. There are even more possibilities to be explored for boosting performance and efficiency of your workflow. HybridMount opens unlimited opportunities for individuals and enterprises to boost efficiency and make better use of their cloud data for value-adding applications. The feature is now available with QTS 4.4.1. Go install it now in QTS App Center and give it a try! Please share with us any thoughts and ideas about HybridMount. If you've come up with brilliant HybridMount use cases for improving the workflow, please also comment below!
*The cache feature is coming very soon. Stay tuned for updates.