Most enterprises are aware of the advantages of using public cloud services, and some of them are even utilizing multiple service providers to ensure optimized costs for their operation. But managing a multi cloud environment can be a headache: individual silos increase management costs, data cannot be easily migrated between clouds, just to name a few. How can QNAP hybrid cloud storage gateway solutions help? Let's find out.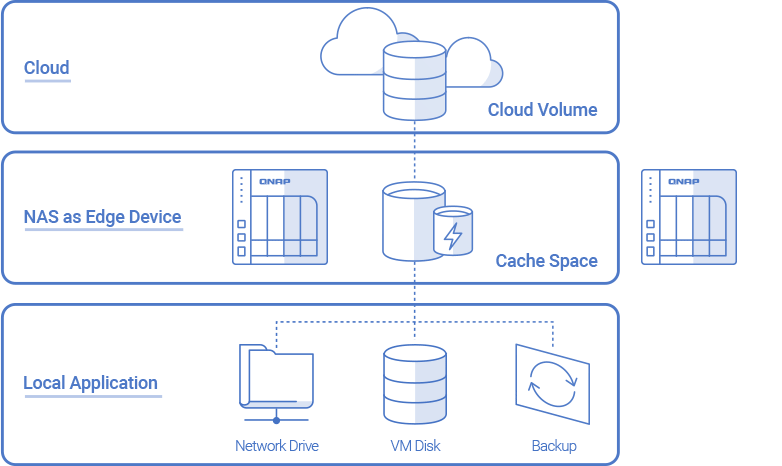 The QNAP VJBOD Cloud app allows the creation of a storage space on the cloud while maintaining an identical copy in a store on the local NAS. The local store serves as a gateway (cache) of the cloud version and ensures service continuity at the same time. This can be conveniently used to accelerate applications like database transactions for efficiency, and to make sure your critical services are resilient that will not be interrupted because of Internet disconnection.

The QNAP HybridMount app can be used to bring supported cloud storage services together by establishing a connection to each cloud. Some services can even use the QNAP NAS as a gateway (cache) to accelerate file serving and to save on Internet bandwidth. Your QNAP app experience will also extend to these supported services, making it even more streamlined to use cloud storage spaces as part of your NAS storage. For example, Qsirch and Qfiling can be used with spaces mounted by HybridMount (gateway mode only) for a rich and efficient data search experience.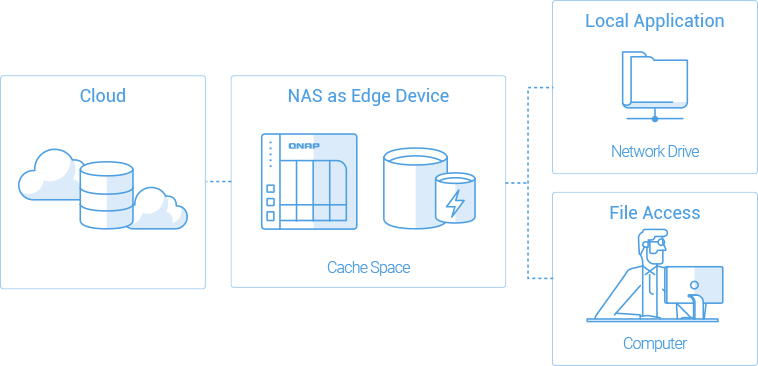 Last but not the least, by connecting to cloud services with QNAP hybrid cloud storage gateway solutions, you can facilitate easy data migration between clouds to ensure efficient use of your cloud storage spaces.
If you've got other brilliant ideas about interesting uses of QNAP hybrid cloud storage gateway solutions, be sure to comment below to let us know. If you'd like to know more about QNAP solutions, please contact your local QNAP offices or representatives to discuss your requirements in detail.