Today, we will be focusing on the basics – how to integrate the QNAP NAS into your daily workflow as a creative user. Owning a Mac is more than it seems since for some people it seems simple and often regarded as the "easy-to-use" computer.  But for those who rely their lives on a Mac or multiple Macs, understand how intuitive it is and its important stance of our digital lifestyles. I'm not saying that owning a Mac makes you creative user, but as blunt as I may sound, many Mac users appreciate design(either the product itself or in general), and how seamless the integration it is between its creative applications.
Why do you need a QNAP? Well here is a quick table pointing out some differences in the different types of backup/storage devices that are often seen and used today. With a QNAP NAS, you get much more storage capacity, data protection(RAID), abilities to collaborate, file share and remote access. Life is easier when there's no need to transfer files through a USB dongle, or external hard drive.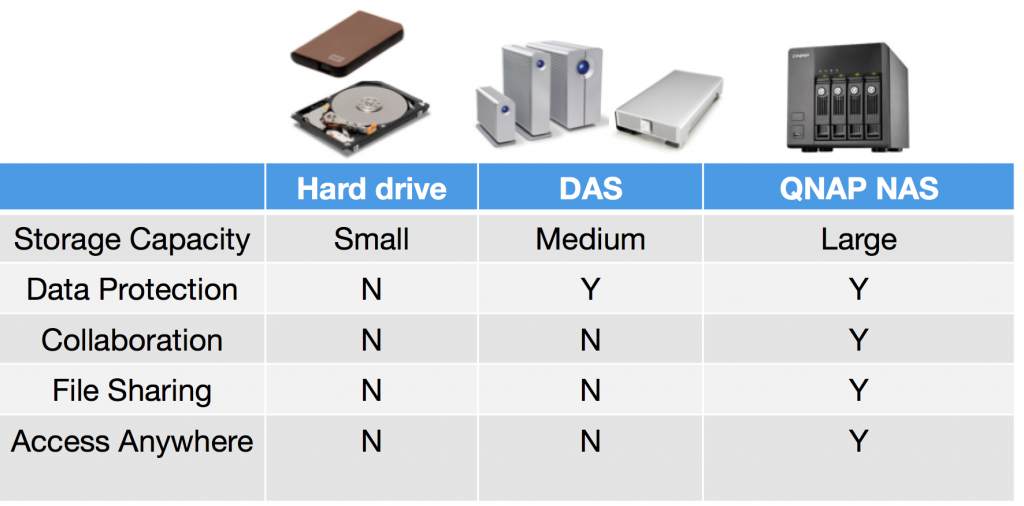 Today we will be going over on some simple demonstrations and scenarios on how to integrate a NAS into your digital lifestyle.
Scenario A.
You are an artist and you create artwork for a living and often uses software such as Adobe illustrator, and sometimes edit photos and images with Adobe Photoshop. You would often find yourself playing with Ai during your spare time and find it fascinating how your brain suddenly becomes more creative when it's not at work. You save your files onto your personal Mac and under your local folder. Next day, you arrive at work and you forget that your file is saved onto the Mac at home, not anywhere else such as Dropbox or Google Drive.
Solution:
Instead of paying monthly fees you would pay a one time fee (the QNAP NAS).
One year of Google Drive and Dropbox for 1TB of total storage is $9.99 x 12 = ~$120.
$120 a year on fixed storage of 1TB is pretty expensive, as you would end up having to delete some files to not go over 1TB. When you save a video of 120MB+ or more, you would have to use that disk space on your Mac at home and work for that particular file. The public cloud services give you convenience but does not save your Mac's capacity, and along those lines it is not 100% private.
Google Drive                                                 Dropbox

Suggested workflow(that may work for you)
Download the file you'd like to work on by dragging the file onto your desktop

Edit your file like on your normal desktop

 Save the final copy onto your QNAP

Delete or archive it (if not needed anymore) off your Mac. (You end up saving your capacity, and you'd still have the ability to access, share or edit this file wherever you are)
The QNAP NAS would be useful in this situation. Simply save your files onto the QNAP, and by using FTP, SMB or AFP you could easily access your files on the NAS(stationed at home or work) whenever you want. E.g. Save file under "shared" -> find your NAS name, in this instance mine was called 431Plus (AFP). Note: AFP is the native protocol that offers file services for Mac OSX.
On your Mac, go to the top and click "Go" and then "Connect to Server"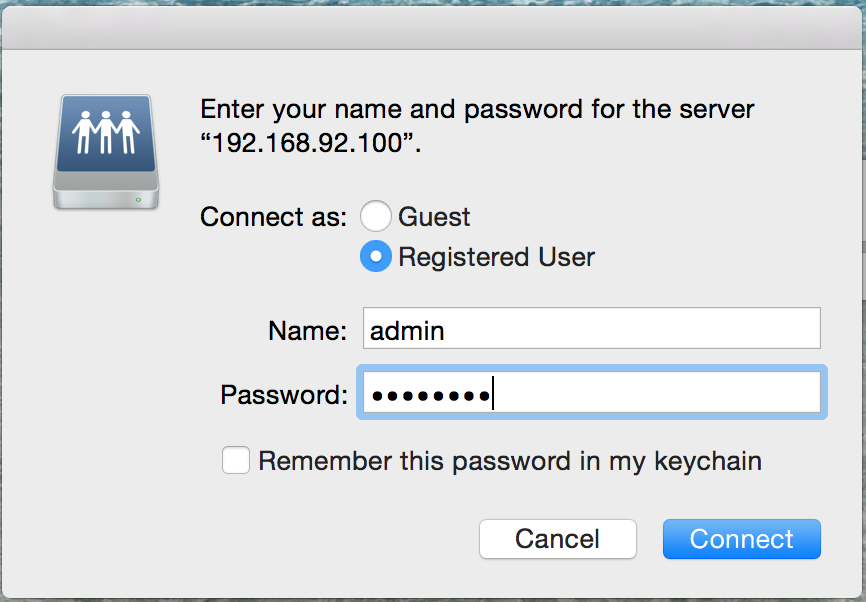 After hitting "Connect" you will have to enter your login credentials. Enter your NAS username, default admin and password is whatever you've set.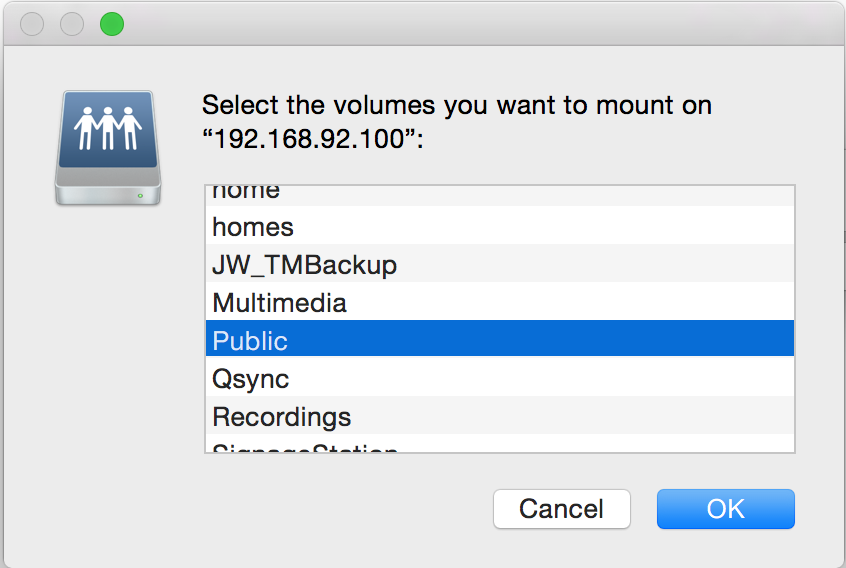 Select which folder you'd like to go to and when connected to your server, you can then save your file onto the NAS.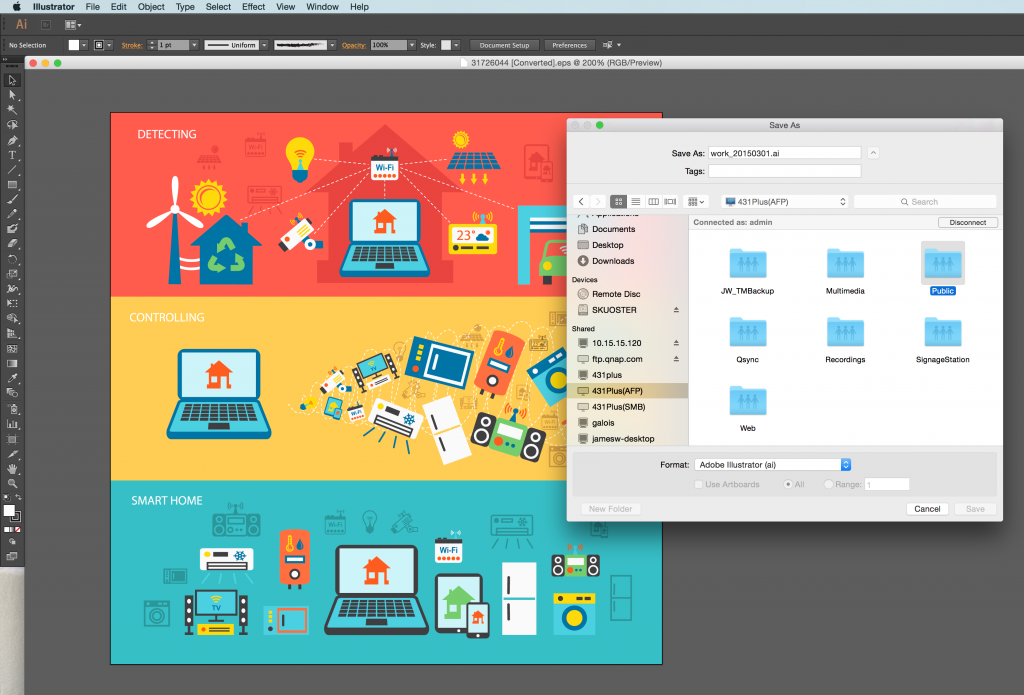 After saving the file onto the QNAP NAS, you would then be able to access this file anywhere you want, and either download it to your local workstation, or edit on the spot.