Hi, all. In past decades, smart devices have become an important part of our lives. Everybody has one and uses it 24/7 for games, apps, taking photos and videos, and so on. Today, I'm not talking about the games and apps, but the files stored on those smart devices. How do we assure those files are safe? How do we back up those important files? We usually would back up those files to our PCs, Macs, QNAP NAS, or public cloud services such as Google cloud, Google photos, or Dropbox. However, there are some risks for backing up to the public cloud services.
The first concern is privacy. We can't really tell if we need to be worried about our privacy if we decide to use the public services. We can't control or do anything in the event that the public cloud service decides to change the terms of use, regarding how we can use our files, photos, or videos.
The second concern is that you never know when your photos, videos, or backups will be removed. For example, Google just announced that it will automatically delete the Android backups if a device is inactive for two months. Although you have a backup on the cloud, there's still a chance that it could to be removed if the cloud service chose to do so.
There's no exact answer telling us what backup method is 100% safe for your data. Thus, we always recommend keeping your precious files backed up in at least three locations, just in case your data is lost due to unexpected circumstances.
QNAP offers several easy ways to back up the files on your mobile device to your QNAP NAS, such as internet or USB direct connection. We'll briefly demonstrate how to do it
1. Using the App – Qfile
Qfile is a powerful and super easy tool that you can install on your smart phone. It not only offers several management features on your NAS, such as searching, downloading, uploading files, and streaming videos, but it also does automatic backups. The app gives you all kinds of file access on the NAS. Besides this, you can enable the option: "Auto upload photos from the photo gallery". Once this option is enabled, every time you take photos, Qfile will automatically backup the photo you took to your QNAP NAS. Easy, right? It's just like Google Photos, but you have total control of your own files instead of letting another service have the rights of to your photos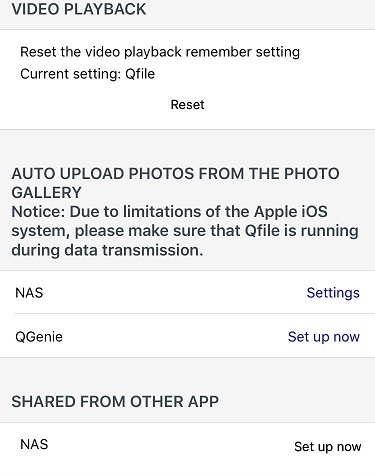 2. Smart import Through USB One Touch Copy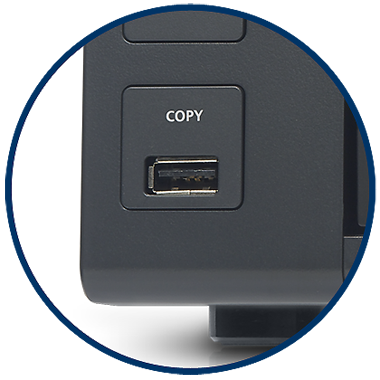 There's a feature that we've offered for a very long time now, called: "USB One Touch Button". This feature is always very useful when we want to back up the data in our USB storage to the NAS. We simply set it up in the GUI, once the external device is plugged into the front USB port and the one touch button is pressed, the system will automatically back it up to the NAS. You don't even have to turn on a desktop or laptop. There's something we've always been wanting but haven't supported for years; thanks to the release of QNAP's new firmware QTS 4.3.4, it finally supports backing up the data on your mobile device, whether it's an Android phone or iPhone.
Simply said, QNAP is a private cloud in your own home. You have total control of your data. It provides security and privacy for your data. The most important part is that all the apps that QNAP offers, such as Qfile, Qmanager, Qsirch, and others, are making your life easier.
Now, it's time for you to explore QNAP Turbo NAS!