Do you know that in a 2019 IDC survey, 85% of respondents said that their organizations have moved applications and/or data out of public clouds?
It's for sure that public clouds bring many benefits to individuals and businesses such as no hardware maintenance and very high resiliency, but they're not flawless. With QNAP NAS added as a storage gateway (HybridMount and VJBOD Cloud) to form a hybrid cloud environment, you can mitigate some of the shortfalls while maintaining a productive and cost-efficient cloud experience. Let's now look at how QNAP NAS optimizes your infrastructure as a storage gateway:

Cost savings: cloud storage services are billed by the usage. That is, if you upload everything onto the cloud, a huge fee of storage and bandwidth will be incurred. Do you really need everything on the cloud? By adding QNAP NAS as a local data store and a gateway to the public cloud, you can migrate some cold data back to the on-premises infrastructure and have the QNAP NAS hybrid cloud storage gateway serve as a cache to the public cloud. You'll save on both storage and downloading for a more cost-efficient cloud experience.
Ease of bandwidth demands: by using QNAP NAS as a cached gateway to the public cloud, all uploads/downloads to the cloud are processed by the QNAP NAS instead of individual clients. Download requests for the same file will be directly served by the gateway locally, saving expensive (and limited) Internet bandwidths. Upload requests will go to the gateway first as well, accelerating cloud access for clients.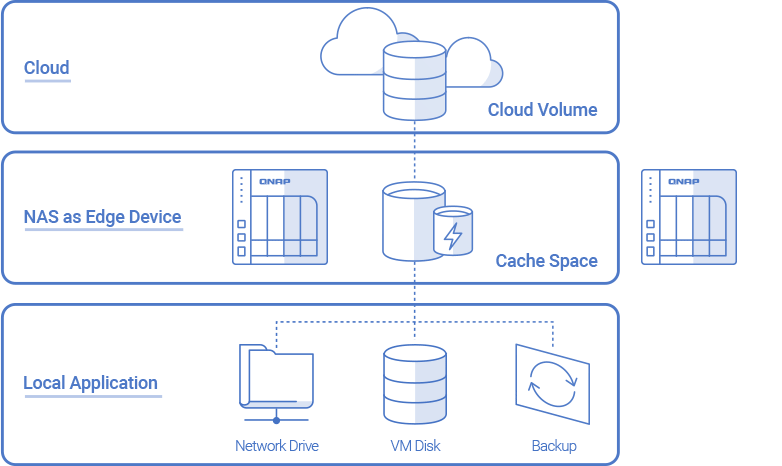 Accelerated access: with a QNAP NAS as a gateway on the LAN, access and response time can all be greatly improved for edge and time-critical applications such as database transactions and IoT device monitoring/control. Your use cases will be further expanded and empowered by the unlimited potentials of an efficient hybrid cloud storage infrastructure.
Streamlined operations: with a QNAP NAS as a gateway on the LAN, clients can access cloud services with regular SAMBA/AFS/NFS/iSCSI protocols for all supported cloud storage services. No add-on or app needs to be installed on clients, meaning a flat learning curve for most average users.
Rich QTS app ecosystem: In addition to the storage gateway solution, QNAP NAS also offers versatile features with its QTS app ecosystem for more value-added scenarios. For example, QNAP NAS can be used as a light machine learning and inference server, making your hybrid cloud environment more productive with edge computing capabilities.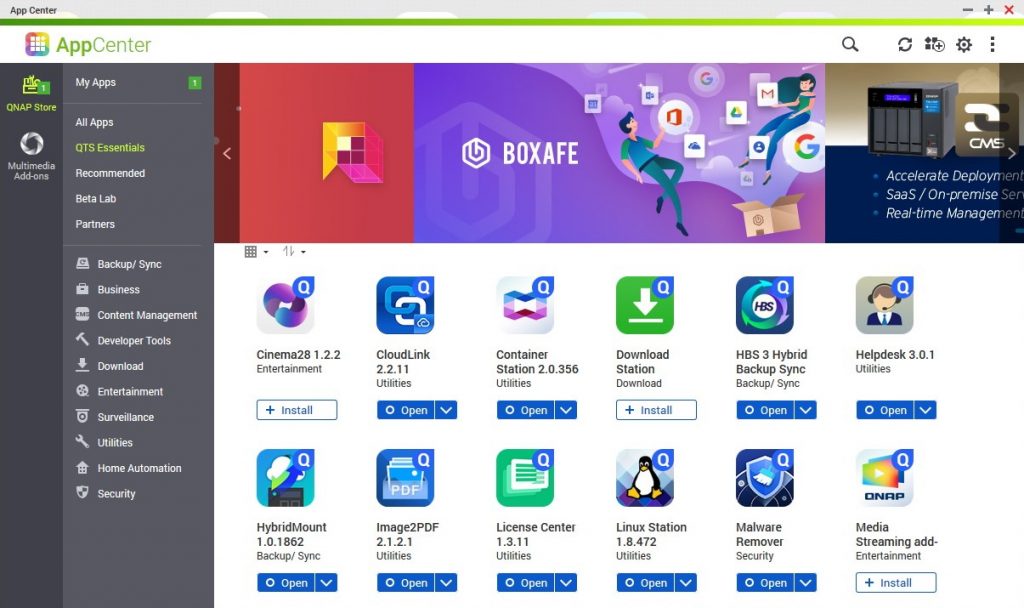 With many advantages, QNAP cloud storage gateway solutions are surely an investment worth making to lower your TCO (total cost of ownership) and to make your infrastructure more efficient, resilient, and intelligent. Not convinced? Comment below or give us a call so we can further discuss it in detail!
Preview: In the next post we're going to share with you some tips for selecting a QNAP NAS and a cloud storage service to build a hybrid storage cloud. Click here for the post.